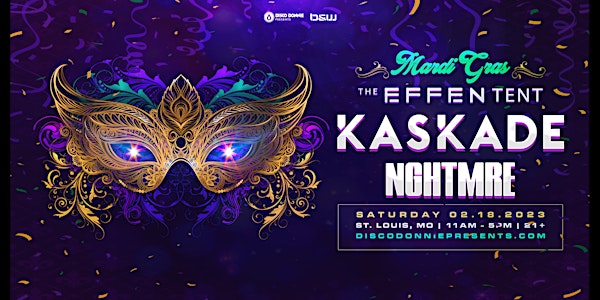 The Effen Tent on Mardi Gras 2023
The Effen Tent on Saturday, Feb.18th features KASKADE and NGHTMRE is an All-Inclusive event taking place behind Social Bar & Grill Soulard.
When and where
Location
Social Bar & Grill Soulard 1551 South 7th Street St. Louis, MO 63104
About this event
The Effen Tent taking place on Saturday, February 18th featuring KASKADE and NGHTMRE is an All-Inclusive Premium Open Bar event taking place behind Social Bar & Grill Soulard in the heart of Mardi Gras St. Louis.
Doors Open at 11AM and the event goes until 5PM.
The event includes
- 6 hours of Premium Open Bar
- In & Out Access ALL DAY
- 70+ Private Restrooms
- Busses to and from Wheelhouse from 10AM until 5PM (Wheelhouse doors open at 9 am)
All attendees must be 21+
All tickets are NON-REFUNDABLE 
Q - Will there be parking?
A - There is not a designated parking lot for this event. Wheelhouse Downtown will be providing a shuttle service to and from Mardi Gras in St. Louis starting at 10:00am.
Q - Is my ticket refundable?
A - No.! All sales are FINAL. However you can transfer your ticket to another attendee. The third party will need to have the printed ticket or email present at the time of check-in.
Q - When does In/Out Access end?
A - You will be able to get in and out of the tent until 4:30pm. After 4:30 we will be turning things down and not letting anyone that leaves back in.
Q - Will the streets be open?
A - NO. Broadway will be shut down 9 AM - 12 PM. Please use the shuttle service provided by Wheelhouse Downtown OR plan accordingly by visiting the Mardi Gras Inc. website http://www.mardigrasinc.com/maps-parking/
Q - When is last call for alcohol?
A - Last call will take place at 4:30 PM
Q - Will there be food?
A - Yes. We have hired Standard Meat Club to come down and BBQ up some burgers, brats, and dogs! The perfect party fuel. Food will come at an additional cost.
EARLY CHECK-IN Thursday, February 16th 5-9pm at Social House Soulard 
EARLY CHECK-IN Friday, February 17th at Social House Soulard from 5-9pm. 
Once you have completed early bird check-in, you will receive your wristband (THIS IS YOUR TICKET) and you can not check in again or receive a new wristband. Once your checked in your ticket has been used. DO NOT LOSE YOUR WRISTBAND OR YOU WILL NEED TO RE-PURCHASE A TICKET AT CURRENT PRICING.