Description
You MUST be registered to attend. There will be 2 Rounds. Everyone should be in attendance, ready to pitch to lenders and talk with resource partners no later than 11:05 AM. You are welcome to arrive as early as 10:05 AM, the first pitches will be given at 10:20 AM. First to arrive - First to pitch!
Your confirmation email will provide links to help you prepare your brief 5 minute pitch.
The EFEA Investment Marketplace provides an arena of financial resources with financing options for businesses seeking to interact and engage with the investment and lending community.
Lenders, Angel-investors and investment resource partners will participate in our Funders Lounge, a simulated speed-dating type of event where initial conversations can help both the investors and the business owners determine if "a second date" is desired.
You will have 5 minutes to share your company's financial needs with each lender and get the financing you need!
Lending Partner Commitments Include: Eric Franklin, Angel Investor; M&T Bank; Community Bank of the Chesapeake; FSC First; Meridian Management Group; PNC; Syndicate Group Funding; Maryland Partners Bank; SoNA Bank; Woodforest National Bank; TEDCO; Calvert County Economic Development; Charles County Economic Development; St. Mary's County Economic Development; Maryland Department of Commerce.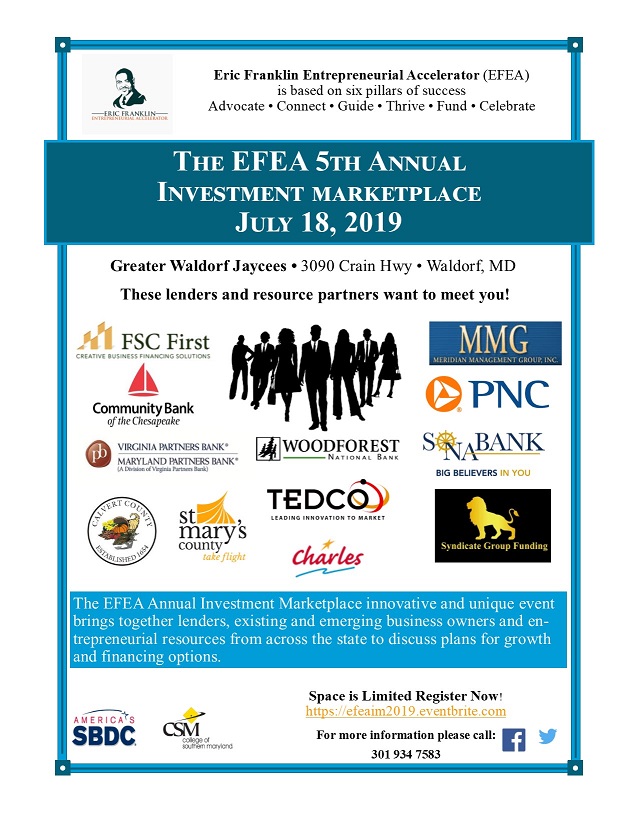 Organizer of The EFEA Investment Marketplace 2019
The Eric Franklin Entrepreneurial Accelerator (EFEA) is a partnership between the Southern Maryland Small Business Development Center (SBDC) and Eric Franklin, President and CEO of ERIMAX, Inc.  The goal of the Accelerator is to build an entrepreneur platform for businesses in Southern Maryland to grow, thrive, and connect with other entrepreneur ecosystems across the country.