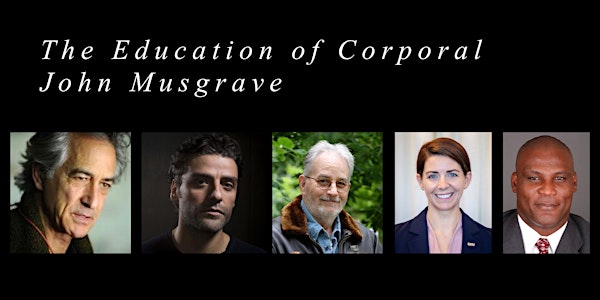 The Education of Corporal John Musgrave Book Event
Live readings from a searing new memoir about the Vietnam War and its aftermath, as a catalyst for powerful, intergenerational discussion
About this event
This special collaboration between Theater of War Productions and DAV (Disabled American Veterans) will present live readings from The Education of Corporal John Musgrave, a searing new memoir about the Vietnam War and its aftermath, as a catalyst for a powerful, intergenerational discussion about the cost of war and the challenges of healing wounds, both visible and invisible.
"There's not a false note in this book, full of both pride and sorrow. It's just the retort to those who wonder why Vietnam vets can't just forget about the past and move on… Smart and self-aware, Musgrave delivers one of the best recent books on America's experience in Vietnam." --Kirkus, starred
Featuring live readings by actors Oscar Isaac (Star Wars: Episode VII - The Force Awakens), David Strathairn (Nomadland), and COL (Ret.) Gregory D. Gadson (Battleship), Ashleigh Byrnes (Deputy National Communications Director, DAV) and author John Musgrave.
Directed and facilitated by Bryan Doerries.
This event will take place on Zoom Webinar and can be accessed on personal devices. The event Zoom link will be distributed via email and available to registered attendees starting 2 days prior to the event.
This event will be captioned in English.
All of Theater of War Productions' events follow the same format:
The performers will read the text.
Community panelists will kick off the discussion with their gut responses to what resonated with them across time
We will open the discussion to the audience, facilitated by Bryan Doerries. During the discussion, please raise your hand using the button at the bottom center of the screen. If called upon, you will be promoted to speak and you will be visible and heard by the entire audience for the duration of your comments. If you would prefer not to be seen, please disable your video.