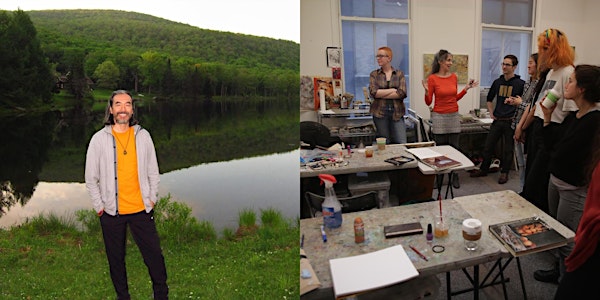 THE ECSTASY OF TANTRIC DRAWING
When and where
Location
4 S Chestnut St 4 South Chestnut Street Beacon, NY 12508
Refund Policy
Refunds up to 1 day before event
Description
THE ECSTASY OF TANTRIC DRAWING
Journey beyond your egoic mind limitations. Touch your boundless freedom and limitless creativity with timeless tantra, infusing the expression of your spirit through the art of drawing. This workshop is for everyone, including all types of visual artists, who want to expand their sense of self and embrace their WHOLE SELF through the true journey of Tantra, using drawing as the primary vehicle. We will integrate breath, meditation, sound, movement, touch, and communion with your fellow voyagers into this drawing process in order to uncover the deepest realms of your heart and the heart of drawing.
Through an initial movement meditation and yogic tantric energy exploration, we will find our way into connection with our vital breath, with each other and with Self. The workshop will gradually open our heart to the spirit of our drawing materials as they transform and reflect our BEING.
In this introductory three hour workshop, we will remain fully clothed. The sensual touch will be innocent, gentle, and non-sexual. It is a common misconception to equate Tantra solely with sex because true Tantra is much more than sex. The bliss of sex is limited to however long the pleasurable union is extended while the bliss of true Tantra is an unlimited blissful union of the self with Self. Let us "weave" the Ecstasy of Tantra and Drawing into every aspect of our lives to nourish our most satisfying lives.
Limited to 12 participants
Workshop fee: $50 (Special Introductory Price)
About workshop facilitators:
Diane Green
is a painter, teacher and founder of The Green Studio School in NYC. She received her MFA degree from Yale University and taught painting and drawing at the Tyler School of Art in Philadelphia. Over time, she realized that there was a need to teach in a way that celebrated each individual's approach to life, using art processes and healing modalities to open one's intuition and reveal personal strengths that empower and delight. The Green Studio School is based upon these principles.
Diane has had the good fortune of working with Taoist Master Nan Lu, Dr. Steven Weiss of the Medicine Lodge Clinic, Donna Eden of Energy Medicine, shamanic healer James Philip, and numerous other energy workers. She utilizes her deep knowledge of the two worlds of Art and Energy in her unique offering of courses and workshops that are truly unlike any others.
jLTg Holo
is an integrative, holistic mystic and doctor of Chinese medicine. jLTg (pronounced Jay-Light-Gee) was adopted from South Korea when his adoptive American mother had a vision of his face on the cross during a religious service, which is documented in his first spiritual video with his mother. At the age of 14, jLTg had his first spontaneous mystical experience of the void and by 19 years old, he was graced with the vision of the Divine as a column of a thousand suns. After graduating from college, jLTg lived as a resident student at the Dai Bosatsu Zen Monastery for a total of 3 years. He also travelled for 3 years meeting and studying with various spiritual teachers such as Hiroshi Motoyama of Japan who was considered one of the top 10 psychic researchers in the world by UNESCO; jLTg was certified in yoga at the Vivekananda Ashram in India, certified in advanced energy healing in the Philippines and certified in acupressure in Thailand. After 40 years of steady, organic spiritual study and practice, without the potentially beneficial aid of psychedelics or psychotropic medications, jLTg permanently pierced the veil of illusion and lives from holo, infinity, the home of all spiritualities.
jLTg Holo can be reached at
Holopeace@gmail.com
jLTg Holo's new website can be accessed by typing:
https://www.holopeace.com
only in the web address search bar on the top of your google search page and not in the regular Google search area.