"The Economics Of Happiness"

Saturday, February 4, 2012 from 9:30 AM to 11:00 AM (PST)
Event Details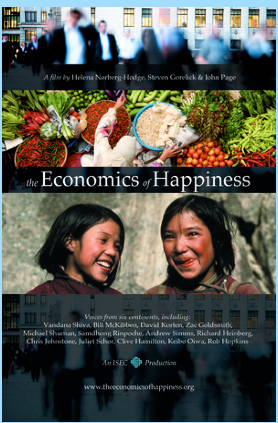 FREE SCREENING of the award-winning documentary "The Economics of Happiness" followed by a Conscious World Summit Community Meetup with Peter McGugan.  
On Saturday, February 4th at 9:30am, the Palm Springs Cultural Center will present a special FREE screening of the award-winning documentary, "The Economics of Happiness," at Camelot Theatres in Palm Springs.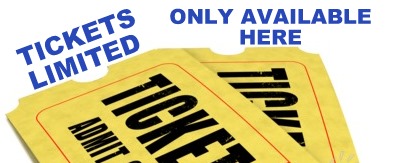 For the majority of people on the planet, life is becoming increasingly stressful. There is less time for friends and family and mounting pressures at work.
"The Economics of Happiness" seeks to explain and address the root cause of these issues (and their potential solutions) by describing a world moving simultaneously in two opposing directions.
On the one hand, an unholy alliance of governments and big business continues to promote globalization and the consolidation of corporate power. At the same time, people all over the world are resisting those policies, demanding a re-regulation of trade and finance — and, far from the old institutions of power, they're starting to forge a very different future.
Communities are coming together to re-build more human scale, ecological economies based on a new paradigm – an economics of localization.
The film shows how globalization breeds cultural self-rejection, competition and divisiveness; how it structurally promotes the growth of slums and urban sprawl; how it is decimating democracy. We learn about the obscene waste that results from trade for the sake of trade: apples sent from the UK to South Africa to be washed and waxed, then shipped back to British supermarkets; tuna caught off the coast of America, flown to Japan to be processed, then flown back to the US. We hear about the suicides of Indian farmers; about the demise of land-based cultures in every corner of the world.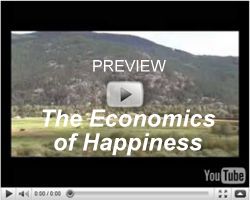 The second half of "The Economics of Happiness" provides not only inspiration, but practical solutions. Arguing that economic localization is a strategic solution multiplier that can solve our most serious problems, the film spells out the policy changes needed to enable local businesses to survive and prosper. We are introduced to community initiatives that are moving the localization agenda forward, including urban gardens in Detroit, Michigan and the Transition Town movement in Totnes, UK.
We see the benefits of an expanding local food movement that is restoring biological diversity, communities and local economies worldwide. And we are introduced to Via Campesina, the largest social movement in the world, with more than 400 million members. "The Economics of Happiness" challenges us to restore our faith in humanity, challenges us to believe that it is possible to build a better world.
The "Earth Matters Films & Solutions" series is a part of the Conscious World Summit Film Festival and presented by the Palm Springs Cultural Center.
Sponsored by the City of Palm Springs Office of Sustainability and the Palm Springs Public Arts Commission.
Official Film Website: http://theeconomicsofhappiness.org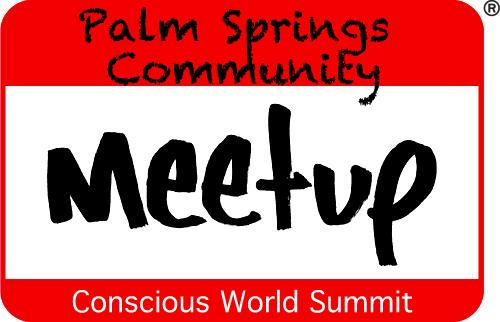 ALSO: Be sure to show your attendance on our Community Meetup website: http://meetup.com/conscioussummit/Palm-Springs/
When & Where

Camelot Theatres
2300 East Baristo Road
Palm Springs, CA 92262-7128


Saturday, February 4, 2012 from 9:30 AM to 11:00 AM (PST)
Add to my calendar