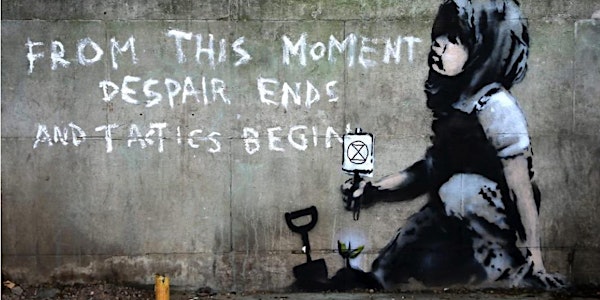 The Ecological and Climate Crisis: How are we to live now?
When and where
Location
Kitchener City Hall 200 King Street West Kitchener, ON N2G 4G7 Canada
Description
The latest IPCC report suggests we have 11 years left to fend off the worst of catastrophic climate changes, and to have any hope of limiting warming to 1.5 degrees. Current research, though, suggests these goals are pretty much fantasies, and that we are more likely heading for 3-7 degrees, along with degradation of soils, disruption of water cycles, loss of forests and biodiversity, and ongoing pollution from plastics, oil spills, agricultural and urban runoff, noise, light, and electromagnetic emissions.

Our ecology, our home, is in crisis, and it's much worse than we allow ourselves to believe. Even the most progressive government policies are woefully inadequate in light of the need. Each decade sees continued destruction, yet we tell ourselves we're making progress, we still have a chance to "turn it around."
How can we, as individuals and as a society, be honest about this situation? Why is it so difficult to tell the truth to ourselves, and to each other... to bear witness to the unraveling of our planet's living systems?
And if we are honest, how then do we act? How do we act as if the truth is real? If the situation appears beyond hope… then what is our next step?
Join Professor Andrew McMurray and local Extinction Rebellion coordinator Shane Mulligan for a frank discussion of our current reality, and of the place of action in upholding both courage and hope.
About the Speakers:

Andrew McMurray teaches Literature at the University of Waterloo. His most recent publication is Entertaining Futility: Despair and Hope in the Time of Climate Change (Texas A&M U., 2018).
In playfully pessimistic and thought-provoking essays, author Andrew McMurry explores a vital but fundamentally perverse human practice: destroying our planet while imagining we are not. How are humans able to do this? Entertaining Futility: Despair and Hope in the Time of Climate Change investigates the discourses of hope, progress, and optimism in the era of climate change, concepts that, McMurry argues, are polite names for blind faith, greed, and wishful thinking. The itemized list of humanity's arrogance can quickly lead to despair, so McMurry compensates by presenting the news in a darkly comic and irreverent style. (from TAMU Press)
Shane Mulligan, PhD, has studied and taught about environment and politics for many years, before he turned to work in the community renewable energy sector. Shane also continues to write and research. His recent work on the textbook Global Ecopolitics: Crisis, Governance, and Justice, 2nd Ed. (U. of T. Press, 2019) helped him grasp the full extent of our planet's ongoing ecological breakdown, and he is still trying to figure out how to live now, with this knowledge, in this time. He has been closely attuned to the actions of the global Extinction Rebellion movement, with its clear demands to "Tell the Truth!" and "Act as if the truth is real!" – while it uses non-violent direct action to move the political agenda toward a heightened sense of urgency.
Accessibilty:
The organizers would request that you avoid the wearing of scented products at this event.