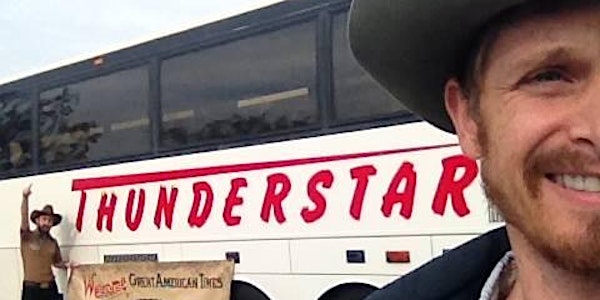 The Easy Leaves Party Bus to Great American Music Hall 2016!
When and where
Location
Santa Rosa --> Petaluma --> San Francisco --> And Back Again! 859 O'Farrell St San Francisco, CA 94109
Refund Policy
Contact the organizer to request a refund.
Description
Presented by North Bay Hootenanny:
Ride in Style from Santa Rosa or Petaluma right to the front door of The Easy Leaves' 3rd Annual 'Western Winter Formal'! Catch a ride to San Francisco's Great American Music Hall from one of two Sonoma County Pickup locations!
If you've never taken the ride before, here's the deal: $30 gets you on the bus and we'll be handling purchasing your ticket for you from the Great American box office, and delivering into your hand so you are whisked directly into your Country Winter wonderland! *Dinner tickets are available as well for $55

Here's the Party Bus Pick-up/Drop Off Schedule:
7pm - Depart Santa Rosa Park & Ride - Santa Rosa, Hwy. 12/Brookwood Ave. Just North of County Fairgrounds under bridge.
7:30pm - Depart Petaluma - Fairgrounds Parking Lot, Next to Coffee Booth
8:30pm - Arrive at Great American Music Hall - Doors Open
9pm - Showtime!
12:15pm - Load Bus
12:30pm - Depart San Francisco
1:30am - Arrive Petaluma Fairgrounds
2am - Arrive Santa Rosa Park & Ride
If you've been along for the ride on any of our previous party busses (and we hope you'll join us again!), then you know the deal! If not, then here's how it works: The bus will load at two Sonoma County pick-up points: Santa Rosa & Petaluma. Then, through the modern miracle of internal combustion, you will be transported across the Golden Gate Bridge, right to the front door Great American Music Hall... All while you kick back, relax, and enjoy a fine blend of adult beverages and conversation- presumably sophisticated. At the end of the show, the bus will board and bring you straight back to the location where you started, from which point, you can walk or drive (safe & soberly!) to your final destination.
Please consider joining us, because it's always more fun to bring a crew of our hometown folks down to the big city! We want to save you all the hassle of driving/parking/tolls/yelling at traffic... and of course the bus is BYOBeverage ;) making it a 21+ ride.
Hope you'll join us for another fantastic voyage!