The Early Mays ~ A Harvest Home Concert: Music Of Traditional Cultures 9/13

Saturday, September 13, 2014 from 8:00 PM to 10:00 PM (EDT)
Event Details
The Early Mays in Concert!
Emily Pinkerton  ✛  Judith Avers  ✛  Ellen Gozion
Saturday, September 13th, 8:00 PM - 10:00 PM
A "Harvest Home Concert" ~ Music of Traditional Cultures
Harvest Home is a monthly series of concerts performed by musicians who have immersed themselves in traditional music and achieved acclaim and recognition as 'Tradition Bearers' in their respective fields. This series of Traditional Music is sponsored by George Balderose of the Balmoral School of Piping and Drumming and, with much appreciation, is hosted by The Four Directions - A Center for the Arts and Healing. Please also see our other concerts in the Harvest Home Series!
---
The Early Mays are a new thread in the rich tapestry of roots music in America, and they've left a trail of enchanted audiences from southern West Virginia to their home in Pittsburgh, Pennsylvania. Rhythmic, evocative, dark and wistful, their Appalachian-inspired folk songs are built on deep country sensibilities, masterful ballad singing and a sweet old-time sound.
 Their harmonies are "close, perfect, high and sweet–as natural as breathing"
Three part singing with gorgeous fiddle, banjo and guitar is the trio's core sound, and their love of American folk tradition has not gone unrecognized. Judith Avers was among the winners of the national Woody Guthrie Songwriting Competition; Emily Pinkerton took 3rd place in fiddle at the West Virginia State Folk Festival, and Ellen Gozion was an American Music Abroad finalist with the US State Department.
After years as successful solo performers, The Early Mays have come together to craft striking harmonies for songs, old and new.  With co-producer Chris Lurch Rudyk of Broadcast Lane Studios (Sara Harmer, Kathleen Edwards, Rufus Wainwright), they've poured their hearts in to their upcoming eponymous release (October 2014).  Live takes and vintage microphones recreate the enveloping spirit of their concerts, and the analog production makes the album sound like a folk gem from the late 1960s.  When you hear these ladies sing, you know from the first note that these are songs from the heart, and from the heartland.
Artist's Biographies
√ Judith Avers
√ Emily Pinkerton
√ Ellen Gozion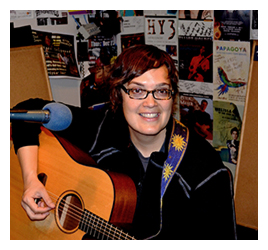 Judith Avers, born and raised in Southwest Kansas, far removed from any sort of modern music scene, Avers was spoon-fed country classics like Willie Nelson, Hank Williams and Johnny Cash. Her earliest memory of music is Patsy Cline melting in her ears, "Blue moon of Kentucky, keep on shinin'..." Merle Haggard, Box Car Willie, Loretta Lynn, and Tammy Wynette were also familiar voices coming out of the 8-track player at her Grandmothers house next door. In late 2003, she released 2 self-produced albums: "Jude Live" and "Greasefire" which she sold at shows throughout the foothills of Colorado.
She recorded "Jude Live" at Avogadro's Number in Ft. Collins, Colorado and "Greasefire" in her friend, Keith Tracy's back room.
In July 2005, she co-produced her next full length record, "Strong Hands" with Jack Redell (Founder of Satire Records and The National Underground).
Shortly after the release of "Strong Hands", Judith moved again. Prior to the move, she became the proud award winner of Denver's Best Female Singer/Songwriter 2005 by Westword Magazine. She was also a winner in the National Woody Guthrie Songwriting Contest with her original tune, "What Do I Gotta Be Poor For" In late July 2006, Judith relocated to West Virginia. The mountains of West Virginia and the people she met were great sources of inspiration. The songs just kept coming and Judith kept letting them. When it came time to record again, she found her musical "soulmate" in Anand Nayak, a producer and guitarist in Massachusetts, where she went to record 2009's "Mountain and Shore", drawing comparisons to respected folk artists such as Gillian Welch and Rosie Thomas.
Judith moved to Pittsburgh in 2010. Her TEDx Talks Video: "How Writing Songs in 60 Minutes Changed my Life", tells more of her story. Her CD, "God Bless the Brooders", was released in 2012. Judith may have started out singing Patsy Cline in a little trailer in Liberal, Kansas, but her songs are reaching a much larger audience now. Her music is honest and it will only take one listen of her album, "Mountain and Shore", and you will know. She's not in Kansas anymore.
•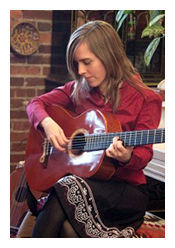 Born in the heart of the Midwest, songwriter Emily Pinkerton has crafted a style with roots that stretch from Appalachia to the Andes.  Her latest project, "Ends of the Earth", is a collection of powerful folk songs available on CD that pay tribute to the teachers and popular musicians who have shaped her style.  High, haunting vocals soar over pulsating guitar and banjo riffs that draw from a decade of travel between her hometown of Valparaiso, Indiana and her second home in Valparaíso, Chile.
Already an avid player of American Old-Time fiddle, banjo, guitar and vocals, Emily learned her first Latin American folk songs from exchange students at her high school.   She embarked on her own year of exchange to Chile in the mid 90s, traveling throughout the south to learn Chilean fiddle traditions.  She studied with master folk musicians, learning to perform traditional cueca and tonada.  At the University of Texas at Austin, she studied ethnomusicology for four years while lending her fiddle, banjo and vocal skills to the award-winning band, Divahn.
With support from the Fulbright Commission and the Organization of American States, Emily returned to Chile from 2004 to 2005 as an apprentice to the poets and guitarrón players of Pirque, including Alfonso Rubio, Santos Rubio and Chosto Ulloa.  With these musicians, she learned how to sing, compose and improvise the traditional poetry of the central valley.  Lyrical and chant-like, the sound of canto a lo poeta permeates Emily's work: "Even when writing in English, my songs gravitate towards the rhythms and rhyme schemes that I learned in Pirque.  I love how it feels to sing the high, arching melodies of Chilean canto."
Emily has been shaping an ever-growing audience for her music, winning the City Paper readers' poll as one of the top acoustic acts in Pittsburgh, where she now lives.  She has received awards in fiddle and flatfoot dancing at the West Virginia State Folk Festival, Augusta Heritage Center and Uncle Dave Macon Days. Emily also performs solo, with Marcia Moreno and with her trio, featuring Venezuelan bassist Layo Puentes, and New Mexican cajón player Lucas Savage. She has toured North and South America, appearing at venues such as SXSW (TX), Sala América (Chile), Kamikaze (Peru), Tulane University (LA), The Space (CT), Makor (NY), Mulholland Nights (CA), Club Café (PA), and Cactus Café (TX).  Her music has been featured on NPR Stations WNYC, WSHU, ETV Radio, and WYEP, and she has shared the stage with Stacy Phillips, Glen Velez, The Chieftains and Alejandro Escovedo.
•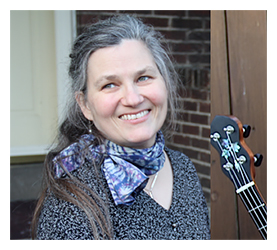 Ellen Gozion, a well-regarded singer of traditional American and British ballads with an expressive and haunting voice, has been singing old folk songs for nearly two decades. Her repertoire draws heavily upon the Scottish and English songs that became a staple for generations of singers in the Southern and upper Appalachians. She has recorded two solo collections of traditional songs and is currently recording songs from southwestern Pennsylvania with regional old-time musicians Mark Tamsula of Appalachian Music and Richard Withers, also featured in "Up in the Batten House: Old Time Music of Southwestern Pennsylvania".
Ellen earned her bachelor of the arts degree in music from the University of North Carolina at Greensboro in 1987. She returned to Pittsburgh and has worked as an accompanist for classical and modern dance, accompanying the dancers of the Pittsburgh Ballet Theatre and School, the Dance Alloy, and Point Park College as well visiting companies and choreographers. Ellen has been an active member of the contra and English dance community in Pittsburgh since the mid-1980's and began playing for dances in 2000. In addition to playing and touring with three contra dance bands, Toad Hall, Toppish and The Hot Toddies, she has played with David Knight (Washington, DC), members of Amarillis (Pittsburgh), The Contrarians (Charleston, WV), Sylvan's Harvest (Pittsburgh-Meadville) and others.
Ellen has found that singing the folk songs of the British Isles and their American counterparts to be incredibly satisfying; their melodies suit the timbre of her voice, and the themes, often mournful and full of yearning, most appeal to her temperament.

In the summer of 2003, Ellen participated in a ballad-singing workshop taught by Sheila Kay Adams of Madison County, North Carolina. Sheila taught Ellen and a small group of ballad lovers a number of old songs that Sheila's family has been singing for seven generations. Since then, Ellen has been living inside these ballads and making them her own, and in so doing, has revealed a growing audience who appreciate the simplicity and beauty of the music.
Ellen Gozion's 2004 solo release, "Awake, Awake", is a collection of a cappella ballads, accompanied songs and dance tunes from the southern Appalachians and the British Isles.
"Gozion's voice is plaintive and haunting, giving full expression to the emotions held in the song."
"Both the vocal and instrumental music on this CD are top quality, with a clarity and simplicity that authenticates these old pieces - her voice has both the purity of a woman singing in the mountains and the excellence of a well-trained voice."
_ CD Baby
Guest musicians on the CD include Larry Unger, David Knight, Rich & Sue Moore, Patricia Halverson and others.

Ellen's second album, "Across The Blue Mountains", was released in December of 2008 on the CD Baby label. Across the Blue Mountains comprises tracks recorded live in concert, from a single performance in the historic Andrew Carnegie Free Library and Music Hall in Carnegie, just outside of Pittsburgh, Pennsylvania. Across The Blue Mountains includes 13 traditional tunes, songs and unaccompanied ballads from southern Appalachia and the British Isles.
In 2012, Ellen was an American Music Abroad finalist with the US State Department. The program sends American musicians around the world as artistic ambassadors and Ellen, along with the classical ensemble Chatham Baroque and fiddler Mark Tamsula, was honored to be among the small group selected this year to audition live in NYC.
Ellen also sings in the duo Garden Gate with singer Penny Anderson. The duo specializes in traditional songs sung in mesmerizing and sometimes strange – strangely haunting – two part harmonies. The duo met at Augusta Heritage Festival in West Virginia and have performed throughout the region since that first meeting in 2009.
When & Where

The Four Directions - A Center for the Arts and Healing
3930 Dickey Road
Gibsonia, PA 15044


Saturday, September 13, 2014 from 8:00 PM to 10:00 PM (EDT)
Add to my calendar
Organizer
The Four Directions, a 501c3 nonprofit Corporation, dedicated to the Arts, Creativity, Spirituality, Healing and Nature, is located in Gibsonia, Pennyvania, a 40 minute drive North from Pittsburgh. Situated on ten rural acres of terraced hillsides, it has three lovely spring-fed ponds and a blend of scenic woodlands, floriferous gardens and wild native pastures with historic and modern buildings and outdoor structures and ceremony places. The grounds are a tranquil place to walk, explore, meditate or converse whie attendin the Center's diverse offerings.

We offer a fascinating mix of creative experiences, self-discovery programs, art exhibits, participatory demonstrations, music and dance performances, meditative retreats, modalities in the healing arts, special events and ceremonies, deep interactive connections with nature and much more. Programs are led by remarkable artists and creators, healers, wisdom keepers, and personal growth guides, who inspire through a shared sense of playfulness and visionary ideas
Join our mailing list and download our brochure at our website:www.thefourdirections.org