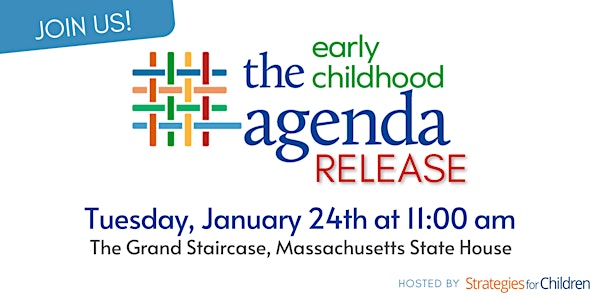 The Early Childhood Agenda Release
IN PERSON or ONLINE - Join us for the release The Early Childhood Agenda at the Massachusetts State House
When and where
Location
Massachusetts State House 24 Beacon Street Boston, MA 02133
About this event

The early childhood system in Massachusetts is complex - difficult to define or navigate. The COVID-19 pandemic shined an important light on our ecosystem and created opportunities for systemic change. There is a vibrant, yet siloed, advocacy space but early childhood issues are interdependent and can't be developed effectively without alignment. Our communities need and deserve an integrated and accessible system of support for children from prenatal through age 8 and their families.
Strategies for Children has convened almost 500 early childhood professionals, advocates, and parents around The Early Childhood Agenda. Our mission, to bring communities from across the Commonwealth together to identify solutions and drive policy change, has yielded new partnerships, robust discussions, and a long list of challenges faced by caregivers and educators of young children.
From October through January 2023, participants were guided through a consensus-building process composed of 5 working groups:
Financially Secure Families
High-Quality Experiences
Thriving Early Childhood Workforce
Robust System Infrastructure and Local Partnerships
Healthy Beginnings
Working groups served as the first of many circles of engagement in examining challenges in the early childhood system and working to identify, coordinate, and elevate key priorities. Partners were asked to reach back into their local communities and request feedback for inclusive, comprehensive consensus building. This convening is taking a whole-child approach, working across sectors for better policy development and to identify effective solutions that may not be visible from one sector's viewpoint.
This state-wide collaboration is producing a targeted list of policy priorities that we call The Early Childhood Agenda - shaped by community voice and needs, and the different perspectives and lived experiences of partners to highlight the field's top priorities for the next two years.
The Early Childhood Agenda will be shared with key decision-makers and influencers at every level of local, state and federal government in January of 2023.
For more information, visit www.earlychildhoodagenda.org