About this Event
Join us for a talk with Professor Zeray Alemseged as he presents on how the discovery of an almost complete skeleton of a juvenile early human ancestor has helped scientists answer some of the pressing questions about human evolution. DNA and fossil evidence has made it amply clear that we diverged from the apes around 7 Million years ago. Since then, the two lineages have evolved leading to humans on one hand and chimpanzees on the other. Paleoanthropologists endeavor to establish the milestone events that took place on our side of the divergence by making fossil discoveries.
When did we start to walk on two legs? Use and make stone tools? Have a human-like body proportion? Have a large brain? — These are some of the key questions. Despite major achievements, many aspects of these questions remain unanswered due to the fragmentary nature of the fossil record. Ongoing research on the earliest child found in Dikika, Ethiopia, and nicked named "Selam," is shedding light on patterns of childhood, locomotion, dental and brain development, and many issues pertaining to human evolution. While most of our knowledge in paleoanthropology comes from remains of adult individuals like Lucy, fossil children also have unique stories to tell. Our knowledge of human evolution will be complete when we combine the two.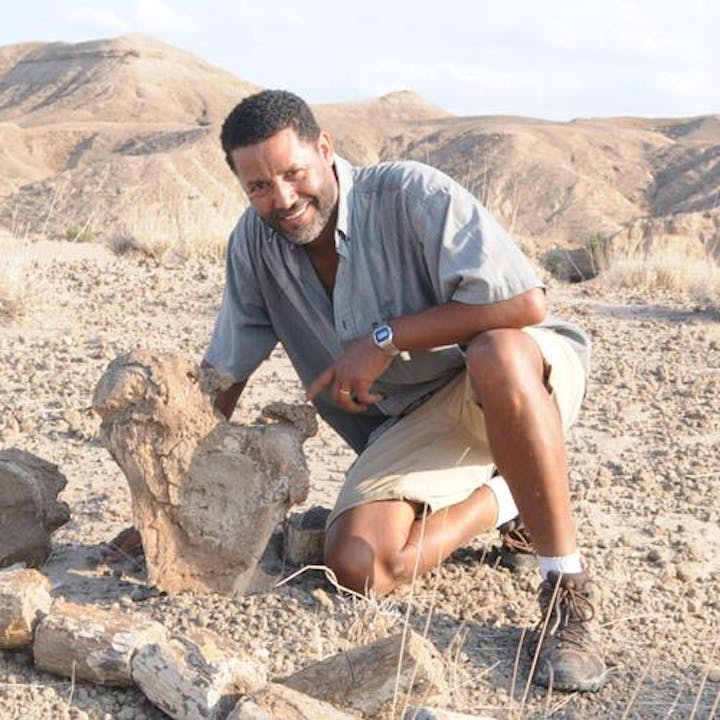 Dr. Zeray Alemseged is the Donald N. Pritzker Professor and a paleoanthropologist at the University of Chicago. Previously he has served as the Irvine Chair and Senior Curator of Anthropology at the California Academy of Sciences, as a senior scientist with Max Planck Institute for Evolutionary Anthropology, as a postdoctoral Fellow at Arizona State University and a Junior Geologist, at National Museum of Ethiopia. He is the founder and director of the Dikika Research Project (DRP) and the Mille-Logya Project (MLP) leading his multidisciplinary team to the discovery of some of the most prominent finds in paleoanthropology. He is Fellow of American Association for the Advancement of Science, Co-Founder and President of the East African Association for Paleoanthropology and Paleontology. His broader research interest includes human evolution and paleoanthropology. He has published extensively in peer-reviewed journals including Nature, Science, and the PNAS while his work is featured on CNN, BBC, TED, PBS-NOVA.
Event Details
Tuesday, October 16, 2019, 6:00 p.m. to 7:30 p.m., Chicago Public Library, Harold Washington Library Center, Cindy Pritzker Auditorium (lower level), 400 South State Street, Chicago, IL 60605. This program is FREE to attend, and seating will be first-come, first-served.
Parking and Transportation
The Harold Washington Center is easily accessible by most CTA trains and multiple bus lines. For detailed travel information visit www.transitchicago.com or call the Travel Information Center at 1-888-YOUR-CTA or 1-888-CTA-TTY1 (TTY). For parking options, please visit https://www.chipublib.org/plan-your-visit-to-hwlc/parking-near-hwlc/.
Notice: As a guest of Chicago Council on Science and Technology (C2ST), you agree to be photographed, videotaped, or filmed and grant C2ST permission to put the finished footage/photography to any uses that it may deem proper including marketing, advertising (print, radio, and television) and PR-related activities.
We are dedicated to providing an inclusive environment for everyone. Please respect diversity in individuals and in cultures.
This program is presented in partnership with: