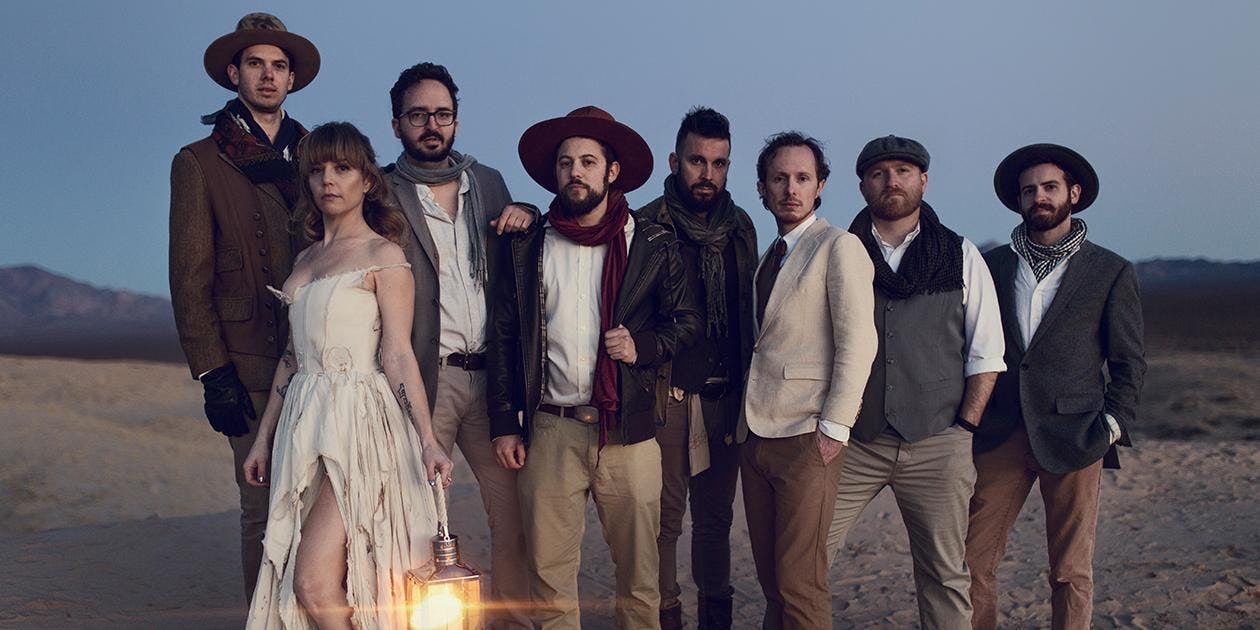 About this Event
The Dustbowl Revival
The Dustbowl Revival is an Americana Soul band with eight full-time members who mash the sounds of New Orleans funk, bluegrass, soul, pre-war blues, and roots music, into a genre-hopping, time-bending dance party that coaxes new fire out of familiar coal. Dustbowl is touring behind their self-titled, fourth studio album which spent three weeks on Billboard charts, hit #1 on Amazon Americana-Alt-Country, #2 on Amazon Folk, and has spent 13 weeks on the Americana radio chart peaking in the Top 20.
The band was founded in 2008 in the bohemian enclave of Venice Beach, California. Over the last five years Dustbowl has become known for their free-flowing and joyous live shows, combining their funk rhythm and brass section with a fast-picking string band section - opening for bands as diverse as Lake Street Dive, Trombone Shorty and The Preservation Hall Jazz Band, touring China as a guest of the state department and headlining festivals like Delfest, Floydfest, Hardly Strictly Bluegrass, and recently Bergenfest (Norway) and Tonder Festival (Denmark). The band received a big wave of attention with their music video that featured famous actor Dick Van Dyke for "Never Had to Go", which garnered over 10 million cumulative views. That video is now airing in an HBO Doc titled "If You're Not in the Obit, Eat Breakfast" starring Jerry Seinfeld, Mel Brooks, and Dick Van Dyke. 
While the band has been known for their old-time and bluegrass roots, they have departed from those styles and evolved more into modern soul music. Now, with Producer Grammy Award-winning Ted Hutt (Old Crow Medicine Show, Gaslight Anthem, Dropkick Murphys) who collaborated on the recent album, Dustbowl Revival brings it on, in the good company of neo-Soul contemporaries such as Nathaniel Rateliff & The Night Sweats and St. Paul & The Broken Bones. The album delivers eleven hot tracks, dominated by love-triangle funk & soul, tenderized with a nod to the unlikely possibility of true love – i.e. "Honey I Love You", with Grammy Award-winning blues artist Keb' Mo' sitting in. 
Freddy & Francine
Authenticity in the music industry is slippery when wet. Everyone praises its value, yet when an artist is truly authentic, it is often only embraced if it can be easily walked on without slipping and landing in a pile of genre-related questions. To the casual observer, Freddy & Francine seem safely cemented as a folk duo. They got the look. The soulful harmonies. The folk circuit bookings — over 150 a year, including the legendary Telluride Bluegrass Festival. They're even getting married. Cute. Even their act's name is cute. You could make a movie about it. Someone probably has.
But Freddy & Francine (their actual names are Lee Ferris and Bianca Caruso) aren't interested in acting, or genres, or talking or not talking about their relationship. They've done all that. They've even recently left their longtime home of Los Angeles for Nashville. And they've never looked more like themselves.
"We just want to play music all the time and we don't care about the rest of the bullshit," Ferris said.  And there's been plenty of bullshit. The Hollywood types, the rat race, the traffic, Ferris's struggle with alcoholism (he's now five years sober). Longtime fans know that the band took a three-year hiatus when Ferris and Caruso's relationship unraveled, a time which found Ferris turning his back on music while driving trucks in L.A., and Caruso working an office job in New York.
During this break, both seemingly were able to land on their feet. Ferris was cast as Carl Perkins in the Broadway and touring productions of Million Dollar Quartet, and Caruso co-wrote and filmed a television pilot in Joni Mitchell's Laurel Canyon home (her friend rents it), featuring Seth Rogen, and sold the thing to ABC. But appearances can be deceiving.
"I was miserable in the whole process, because I wasn't connected to myself in my gut," Caruso said. "I didn't enjoy it. I enjoy traveling and playing music."
Despite rockin' in Perkins' blue suede shoes from Memphis to Japan, in front of thousands of people, Ferris was also unhappy because he was singing someone else's songs. "My heroes were Joni Mitchell, The Stones, Dylan, B.B. King, Lightnin' Hopkins, Carl Perkins, the guys who just tapped into something in themselves, who needed to write and speak their own truth. That's who I am," Ferris said. Adding, "The experience of sitting down with an instrument and coming up with something for the first time, you can't beat that. The best experience I've ever had as a person doing that, and coming up with something that is bigger than the sum of its parts, is with Bianca."
But this is all old news. Freddy & Francine are full-time musicians, and have released three full-length albums and two EPs — not to mention Ferris's production of an album by award-winning actor William H. Macy (featuring Caruso's vocals), and the duo's collaboration with Dead & Co. keyboardist Jeff Chimenti on the musical direction and casting for 2017's Off-Broadway musical "Red Roses, Green Gold," featuring the music of The Grateful Dead.
Keeping truckin', Freddy & Francine plan to release their latest Nashville-recorded EP in September. The six-song "Moonless Night," co-produced by Dan Knobler (Lake Street Dive, Rodney Crowell) finds Freddy & Francine — which has often used full bands on its recordings — still produced but more intimately portrayed, a sound closer to the duo's live performances.
But don't call it folk music. It's too energetic.
"We're performers. We're not just folk musicians who play and sing mellow songs with little voices ... there's screaming," Caruso said. Don't call it Americana either. They don't wear hats. Besides, Caruso says, "The minute you think one of our songs is an Americana song, it can turn into a retro pop song." Despite the reaction of most roots music fans to the dreaded "P" word, Caruso says she doesn't mind Freddy & Francine being labeled a pop band.
"Pop music gets a bad rap, but it comes from the word 'popular.' I'd love to be popular," she said. "I never discriminate against a song because it's popular if it stays in your head ... every Beatles song is a pop song."
But mostly, Freddy & Francine sounds like Freddy & Francine. It ain't the easiest thing to explain, but it makes sense when you hear it, and finally, it makes sense to the two people who matter most. "I'm really happy with who I am and I'm happy with the life I have," Ferris said. At the end of the day, or road, authenticity is internal. Watch your step.