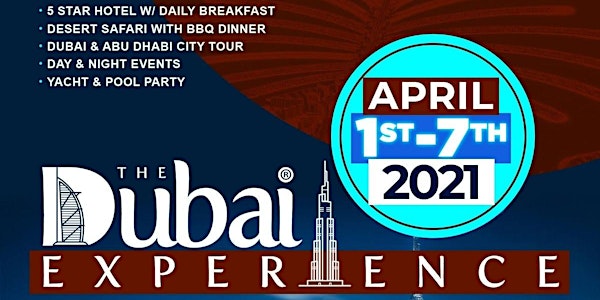 THE DUBAI EXPERIENCE APRIL 1 - 7, 2021
THE DUBAI EXPERIENCE APRIL 1 - 7, 2021
When and where
Location
Dubai Sheihk Zayed Rd Dubai, INTERNATIONAL United Arab Emirates
About this event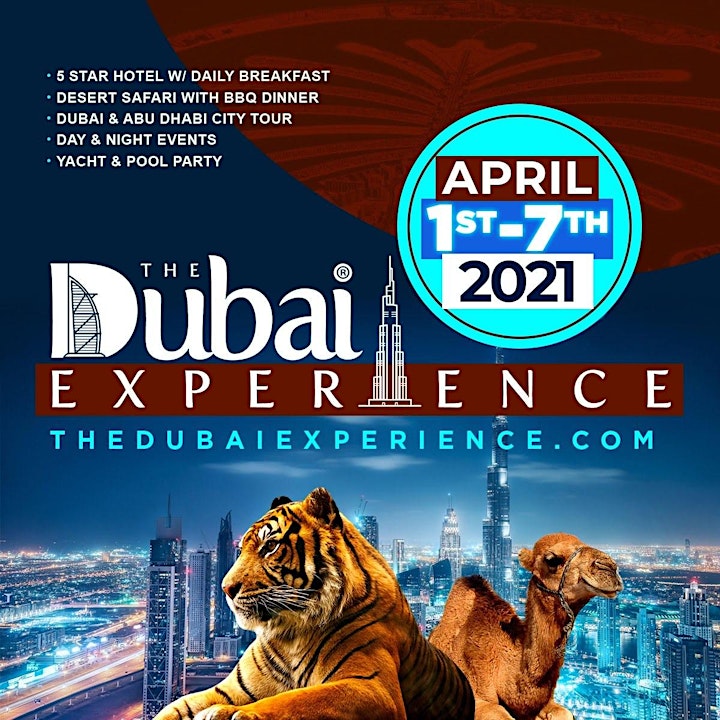 PLEASE READ CAREFULLY
 THE DUBAI EXPERIENCE
APRIL  1st  –  7th  2021
STOP EXISTING & START LIVING!
FLIGHTS ARE NOT INCLUDED IN PACKAGE!
Shuttle from airport to hotel and vice versa not included.
Each person is responsible for their own airfare.
PASSPORT IS REQUIRED!
Dubai Airport Code:
Dubai International is DXB
DUBAI, UNITED ARAB EMIRATES
Your bucket list trip is here!  Dubai is a city and emirate in the United Arab Emirates known for luxury shopping, ultramodern architecture and a lively nightlife scene.  Come and Experience Dubai. This trip is for everyone, make sure you tell a friend. 
THE DUBAI EXPERIENCE =  5 STAR LUXURY HOTEL WITH DAILY BREAKFAST BUFFET,    DUBAI CITY TOUR, DESERT SAFARI, ABU DHABI CITY TOUR, DAY & NIGHT EVENTS. (includes shuttles to & from events)
5 Star Host Hotel:  Top 20 Hotel in Dubai
GHAYA GRAND HOTEL
 Guests can enjoy free WiFi throughout the property. It offers a swimming pool and 5 restaurants. All modern rooms are furnished with LED TVs with satellite channels, individual air conditioning, a sitting area, complimentary tea and coffee making facilities and a minibar. The bathrooms feature a large shower cabinet and a bathtub.  Dining is a pleasure at Ghaya Grand Hotel. Guests can enjoy a wide array of cuisines in our two main restaurants, Red Diamond and Fusion.
*** Prices are Per Person ***
  Quad Occupancy $800 Per Person  
  Triple Occupancy  $1,000 Per Person  
  Double Occupancy = $1,250 Per Person  
  Single Occupancy = $1,500  
THE ONLY WAY TO EXPERIENCE THE DUBAI EXPERIENCE IS THROUGH OUR TRAVEL PACKAGE LISTED!!!!!
 WHAT'S INCLUDED?  6 NIGHT HOTEL STAY w/BREAKFAST BUFFET, DUBAI CITY TOUR, DESERT SAFARI, ABU DHABI CITY TOUR, DAY & NIGHT EVENTS (includes shuttles to & from events) INCLUDED IN PRICING. 
POOL & YACHT CRUISE SOLD SEPARATELY
CAR SHOW & POOL EVENT w/ 2 hr Open Bar $100
ALL WHITE YACHT CRUISE Open Bar & Dinner $150
 DINNER EVERY NIGHT
OPTIONAL FOR $220 PER PERSON
 For those that would like the convenience of having dinner every night at the hotel (Fusion Restaurant).  We have added a "Dinner Special" for only $220 per person for your entire stay.  The restaurant have Japanese, Chinese, Indian, Arabic, Italian and Seafood with 5 live cooking stations and wide variety of starters and desserts to choose from. It's an ideal place for a relaxed evening dinner. Open every night from 7pm - 11pm.
*** Final Payment of Balance Due February 15th, 2021 ***
***DEADLINE***
All payments must be in by February 15th  2021. NO EXCEPTIONS!!!
***All Payments are Non-Refundable and Non-Transferable!!***
Payments not received by the final due date are subject to automatic cancellations without a refund.
A $100 late fee will be imposed for all payments received after the final payment deadline.
If final late payment not in by March 1st your trip reservation will be cancelled!!!
It is imperative to make sure your roommate's payments are made in a timely manner.
If your roommate does not make timely payments or decides not to attend,
you will be required to pay a higher Occupancy Rate.
Need Travel Insurance? Please click here!
We suggest you consider travel insurance
For info & reservations:
347-860-9081
@thedubaiexperience