When you've been lying about something so long it becomes second nature... based on the best selling novel by Jane Harper.
About this event
Drive-In Lot Opens 6:30 pm, Film Screens 8:00 pm (ish)
THE DRY
Aaron Falk goes back home to his drought-stricken town to attend a tragic funeral. However, his return reopens the door to the unsolved death of a teenage girl.
CHOOSE FROM:
- BYOChair- Bring your own chair for an up close and personal outdoor "reclined" experience.
- BYOChair + Camp Chair Rental- No fuss over finding those camp chairs in storage- we'll provide the relaxing seat for the duration of your experience!
- Picnic Tables- Seat you and your close friends and family outside near the screen at a picnic table- comes with an FM Radio. Tables seats 6 comfortably. Does not include a parked car viewing spot- cars must be parked on side lot where directed on arrival.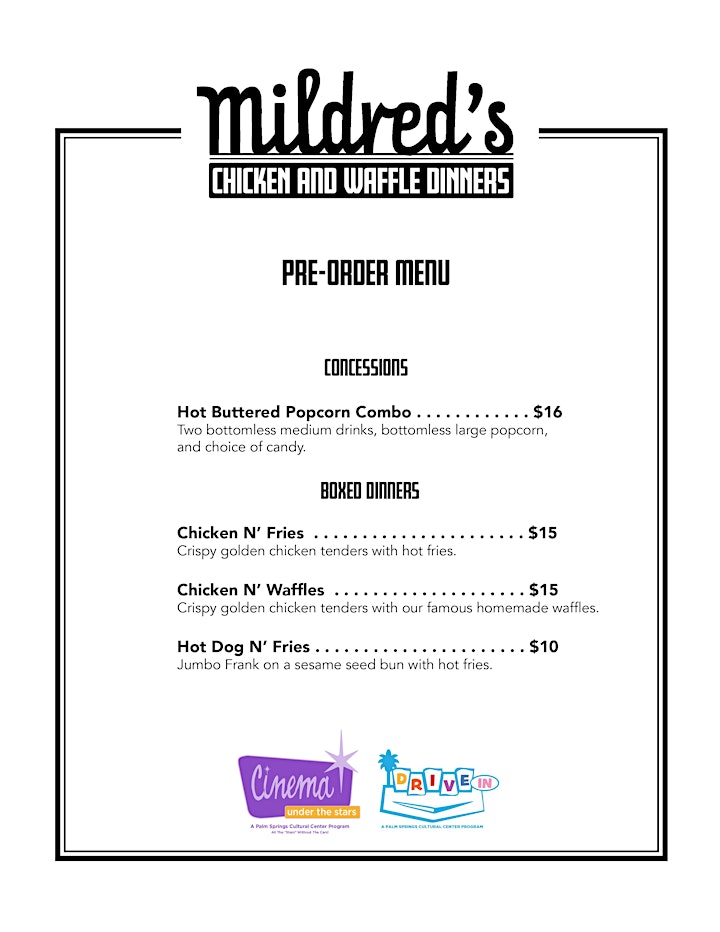 PLEASE READ:
FOR THE HEALTH AND SAFETY OF ALL OUR PATRONS PLEASE ADHERE TO OUR POSTED SOCIAL DISTANCING RULES. THOSE WHO FAIL TO DO SO WILL BE ASKED TO LEAVE THE EVENT.
- If you are exhibiting any of the COVID-19 symptoms and/ or are waiting on test results from a possible Covid-19 exposure- DO NOT ATTEND THE EVENT-a full refund will be issued for the event once you have let us know.
- FM Rentals are 1 per car/ table.
- Reservations are for a section ( such as picnic table/ premium etc.) Upon arrival- when you check in with an attendant you will choose your spot within that section appropriately physically distanced from another vehicle. Physical spots will fill in on a first come- first serve basis within the section you purchased.
The Palm Springs Cultural Center, a 501(c)(3) non-profit organization, was established to encourage the development of the cultural arts in the Coachella Valley with a specific focus in the areas of film, fine art, live performance, dance, music, and community festivals. The Center is dedicated to advancing education, to nurturing community-wide participation in the cultural arts, and to sponsoring scholarship awards for deserving individuals.