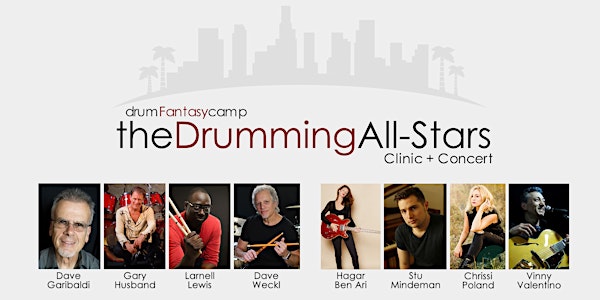 The Drumming All-Stars Clinic + Concert
An ALL AGES day of education and music featuring FOUR of the world's most iconic drummers and an all-star band!
Date and time
Friday, August 4 · 12 - 10pm PDT
Location
LIVE HOUSE 1534 North Highland Avenue Los Angeles, CA 90028
Agenda
12:00 PM - 2:30 PM
Drum Clinic featuring Dave Garibaldi, Gary Husband, Larnell Lewis & Dave Weckl
---
Drum Clinic featuring Dave Garibaldi, Gary Husband, Larnell Lewis & Dave Weckl. The guys will perform, run a discussion, and take questions from the audience. This can be purchased separately or as a...

8:00 PM - 10:00 PM
Concert Featuring All Four Instructors and an All-Star Band
---
Each instructor will perform with the band individually with our all-star band, featuring: Hagar Ben Ari (The Late Late Show with James Corden), Stu Mindeman (Kurt Elling/Dave Weckl), Chrissi Poland ...

About this event
Presented by Drum Fantasy Camp (August 4-8 at the Loews Hollywood Hotel), "The Drumming All-Stars" is an ALL-AGES day of education and music featuring a Noon drum clinic and an 8:00 p.m. concert. These two events can be purchased separately or as a combo.
Both events feature iconic drummers Dave Garibaldi (Tower of Power), Gary Husband (Allan Holdsworth/John McLaughlin), Larnell Lewis (Snarky Puppy) and Dave Weckl (Chick Corea/Mike Stern). The concert features: bassist Hagar Ben Ari (The Late Late Show with James Corden), keyboardist Stu Mindeman (Kurt Elling/Dave Weckl), singer Chrissi Poland (Moby/Michael Bolton) and guitarist Vinny Valentino (George Benson/Vital Information).
Each drummer will play a set at the concert! They will also jam together for some unforgettable moments!
This rare collection of incredible musicians will appeal to serious music enthusiasts - not just drummers! It's an all-ages show that is also perfect for young music enthusiasts.
Seating
The location for both events is "1534," formerly known as "The Live House," in Hollywood. This is an intimate room with great sound and you'll be able to see everything. The entrance is on Highland avenue, just South of Hollywood Blvd. There is parking across the street, a parking garage behind the venue on N. McCadden Place (see the map in this listing), and metered spaces on Highland.
Approximately 100 seats will be available close to the stage. The rest of the room will be standing room. Make sure to grab an early admission ticket if you need to sit.
About The Event Organizer
This concert is the opening event for Drum Fantasy Camp, an international drumming event now in its 15th year! The drumming performers will run classes August 5, 6, 7, and 8. Attendees get to jam with our band in the evenings! Click here to learn more about the camp and sign up for classes. THE CONCERT IS OPEN TO EVERYONE - NOT JUST CAMP ATTENDEES!
Legendary sound engineer Dennis Moody (Dave Weckl/Steve Gadd/Prince/Diana Ross/The Commodores...) will run sound at the concert and is also teaching a class at the camp. You can register for that class here
Tickets are in high demand by those attending the camp and music enthusiasts. Last year's event sold out. Grab your seats now!
Venue Entrance and Parking Maps
Enter the building at 1534 Highland Ave. There is a coffee shop in the front that you will go through. We will be scanning electronic tickets there. There's a parking garage directly behind the building and a lot across the street (plus metered parking on the street) Please wait outside until doors open: 11am for clinic early admission, 6:45pm for concert early admission, and 11:30am for clinic regular admission, 7:15pm for the concert.
Great Moments from Past Concerts!
2022 Concert: Dave Weckl Performs "Do I Do" (Stevie Wonder)
2022 Concert: Opening Tribute to Drummers We Recently Lost
Frequently asked questions
What kind of music will be played?
Will there be enough seating for everyone?
Can I meet the drummers and band?
What is Drum Fantasy Camp?
Who can I email with questions?