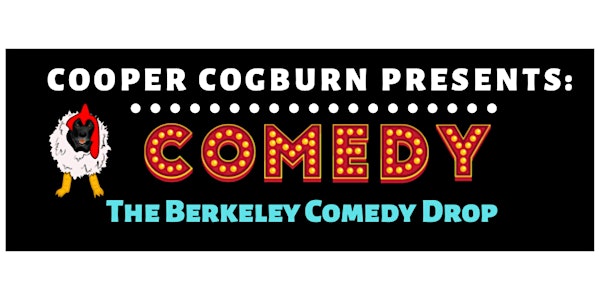 "The Drop" Berkeley's Best Standup Comedy Show
Come laugh with us at Drop 84 with Jenna Kim Jones and Bay Area Comics! $20 a 21+ Venue
When and where
Location
2284 Shattuck Ave. 2284 Shattuck Avenue Berkeley, CA 94704
Refund Policy
Contact the organizer to request a refund.
Eventbrite's fee is nonrefundable.
About this event
Headlining the event is Jenna Kim Jones, a clean stand up comedian who performs regularly nationwide. Jenna was the featured comedian on SiriusXM's Channel LaughUSA in September 2016, August 2018 and November 2020. Jenna also released a video special with Dry Bar Comedy called "Jenna Kim Jones: Fun to Hug" that is available to stream on Amazon Prime. Jenna is also a co-host on the television series Random Acts. Jenna also had a podcast called Couple Friends that is in the Top 10 Stand Up Comedy Podcasts in the US! Her weekly podcast features her husband #AL as they navigate through life as your new favorite Couple Friends.
Also Featuring
Larry Beyah: Larry is a TV writer and host of the hit international show "🇮🇹Letz Get LOUD‼️"
Chris Tabish: is a veteran comedian who performs regularly in the bay area. He was recently headlined at Cobb's, SK Morton's, Grandpa's Cheese Book Launch & Comedy Album and has performed at the San Jose Improv, The Purple Onion and his upstairs shower. He is the co-founder of Cooper Cogburn Presents which has produced numerous shows benefitting food banks, the performing arts, animals and wildfire relief. Chris is the author of the books Comediology, No Laughing! and Why are We Here? He is the founder of The Comediology Company, whose continuing mission is to help people find more joy at work using the principles of comedy. Chris has also been featured in Tharawat Magazine, Broadcast Amsterdam, U Didn't Get The Memo and numerous other podcasts across the kingdom.
Leah Rogers: Leah is a stand up comedian finding humor in all areas of her life including parenting and living in the bay area. She is the co-founder of Cooper Cogburn Presents. She has co-produced a weekly open mic in North Beach and sold out shows at the Devil's Acre. She contributes regularly on Comediology's Work Week Update!
Our host, SK Morton a San Francisco Native, SK is the middle-class Caucasian spawn of a predominantly sober Scotsman and an unconvicted Italiana. He started writing and performing comedy while still in high school and has parlayed that [What he refers to as] "success" into, both, the award winning, SK Morton's Lousy San Francisco Walking Tour, and his, SK Morton's Lousy San Francisco Podcast.The Lousy Podcast won BEST OFF-THE-WALL EXPERIENCE by 7x7 Magazine in 2016. The Lousy Walking Tour has won for best walking tour in SF by the Bay Guardian 2017, innovative tour of the year by the Travel & Hospitality Awards 2018, and best tour by Lux life Travel Magazine 2019. His humor anthology, Grandpa's Cheese, was released in January 2022.
Daniel Lewis: Dan is a standup comic originally from Detroit, now living in Oakland. He won the 2022 East Bay Comedy Competition, and he has featured at The Alameda Comedy Club. He enjoys cheese sandwiches, and in his free time he likes to count.
Steven Asifo: Steven, originally from Maryland, has an energy like no one else. His charming, energetic, and cynically good-natured persona brings you into his anxiety-filled mishaps and observations. He has been featured at the DC Improv, SF Sketchfest, and the World Series of Comedy.
Dan Britton: Dan hailing from Northern California and weighing in at 160 LBS, funny man Dan Britton has been touted by many as the funniest of four siblings. His engaging style of comedy is as groundbreaking as it is hilarious! He is a co-producer of Cooper Cogburn Presents. He recently performed with Chris Riggins.
Tom Jonze: Tom's Beard escaped Alcatraz in 1960. When it landed it immediately started doing mics. Tom was born in rural PA and met Tom's Beard in San Fran in 2019 and they've been working on their act for 2 solid years. They took COVID off like a college student gap year but are really hitting stride now. Be sure to catch them soon before Tom's Wife midnight shaves Tom's Beard! He is a co-producer of Cooper Cogburn Presents. He recently performed with Chris Riggins
Ashley Monique: Ashley is an Oakland-based comedian whose material draws from her unique experiences as a mixed race, first-generation American, being a queer woman, and growing up in Texas.She has performed at The Punch Line, Cobb's Comedy Club, Mad House Comedy Club, and Savage Henry Comedy Festival. You can find where Ashley will be performing next on Instagram @trashleymonique.