Location
Cirrus Aviation at Atlantic Aviation Executive Terminal
275 East Tropicana
Las Vegas, NV 89169
Description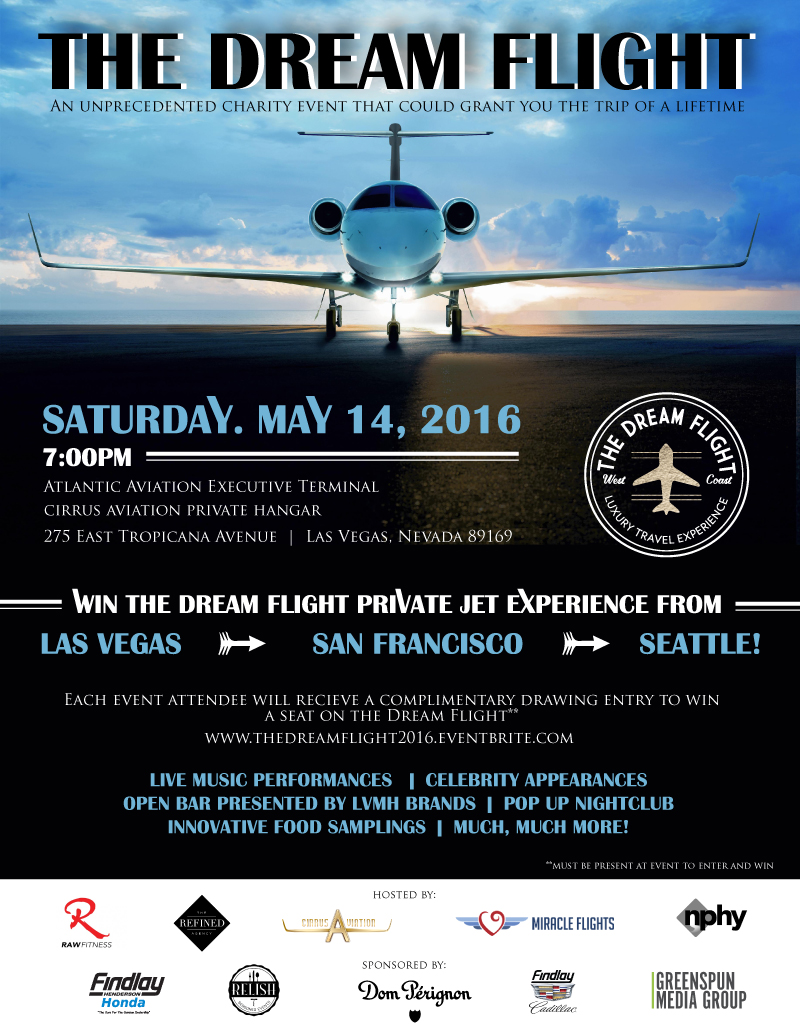 The Refined Agency, RAW Fitness, and Cirrus Aviation have joined forces to present "The Dream Flight - A Gathering of Local Influencers Benefiting Nevada Partnership for Homeless Youth and Miracle Flights," to be held on Saturday, May 14, 2016 at 7:00pm at the Cirrus Aviation hangar in Las Vegas, Nevada. The event will feature live musical performances, celebrity appearances, open bar presented by LVMH brands, pop-up nightclub, Greenspun Media Group Green Room and much more. Each event attendee will receive a complimentary drawing entry to win a seat on the The Dream Flight**; a private jet west coast foodie tour traveling from Las Vegas to San Francisco, CA and Seattle, WA. Proceeds from the event will benefit Nevada Partnership for Homeless Youth's 4969 Retrofit Project. A donation of funding will also be given to Miracle Flights.
**Must be present at event to enter and win.
Nevada Partnership for Homeless Youth
NPHY is the leading service provider for thousands of homeless youth in Southern Nevada. With core programs, NPHY is able to stabilize homeless teen's lives, meet their needs, and provide a safe, supportive environment and a path to self-sufficiency.
NPHY's 4969 Retrofit Project
Main Project Elements: Expansion of Drop-In Center for older homeless youth and creation of an outreach and Safe Place mobile crisis intervention deployment and intake center
Main Project Costs: $225,000 (monetary and in-kind; Goal is $100,000 monetary and the rest in-kind)
Project Description:
Recently, NPHY purchased the property adjacent to their current anchor facility, the NPHY Drop-In Center. The only property bordering the facility on the street, NPHY purchased this 2,226 sq. ft. single family four bed, two bath residential house with commercial zoning as an investment in the future of their growing agency. NPHY is asking the community to help retrofit this house into a critical outreach and Safe Place mobile crisis intervention deployment and intake center to get homeless youth off the streets and out of danger quickly and safely. This space would be complementary to the organization's existing Drop‐In Center, offering a place for youth to go for initial assessments and for staff and volunteers to set‐up and deploy for expanded outreach and crisis intervention efforts. As our community works toward a coordinated entry system for homeless youth and NPHY explores expanding their service age range up to age 24 with a rapid re‐housing program, NPHY also sees this space becoming an important resource in these efforts. The property also offers us a variety of future potential uses, including emergency shelter for youth. With an estimated investment of $225,000 through monetary and in-kind resources, NPHY will be able to retrofit this space into a useable facility to support its crucial continued and expanded efforts to reach homeless youth and enable them to access the services they need to transition to permanent housing.
Miracle Flights
Miracle Flights is a 501(c)(3) nonprofit organization that provides free medical air transportation via commercial airlines throughout the United States. Now in its 30th year of operation, Miracle Flights has coordinated more than 98,000 flights and counting and has flown more than 54,000,000 miles. There are more than 7,000 rare (undiagnosed) diseases/conditions and Miracle Flights helps transport the children free of charge to get the proper care they need by specialists around the world.
Miracle Flights, the nation's leading nonprofit health and welfare flight organization, providing financial assistance for medical flights so that seriously ill children may receive life-altering, life-saving medical care and second opinions from experts and specialists throughout the United States. Miracle Flights hopes to complete its 100,000th flight in June. Every contribution, makes you a MIRACLE MAKER and will aid in this grand accomplishment. For more information, please visit: www.miracleflights.org
Event Host Committee
Alexandra Lourdes, PhD, Ladies Who Dine, The Refined Agency
Lin Jerome, J.D., Ladies Who Dine, The Refined Agency
Justin Blum, Raw Fitness LV
Jennifer Bradley, Mass Media Public Relations
Tyra Bell-Holland, Ava Rose Agency
Greg Woods , Cirrus Aviation