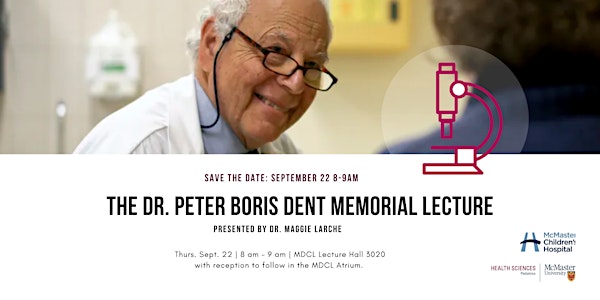 The Dr. Peter Boris Dent Memorial Lecture
To support a safe and memorable event, please indicate if you will attend the lecture, the reception, or if you will participate virtually.
When and where
Location
MDCL - McMaster University 1280 Main Street West Hamilton, ON L8S 4L8 Canada
About this event
The Dr. Peter Boris Dent Memorial lecture was established in 2022 by the Department of Pediatrics, colleagues in honour of the late Dr. Peter Boris Dent, an exceptional pediatrician. Dr. Dent was the driving force behind the creation of what is now known as McMaster Children's Hospital and the adjacent Ronald McDonald House. This annual lecture will address emerging new research leading to improved healthcare in our community and beyond.
Our inaugural speaker, Dr. Maggie Larche, has an interest in developing curative treatments for patients with systemic sclerosis and inflammatory arthritis. Dr. Larche works with immunologists and clinicians from around the world to facilitate innovations and collaborations in biomarkers in rheumatoid arthritis and interstitial lung disease, Sars-CoV-2, and in systemic sclerosis.
In advance of the event, we welcome you to share memories and reflections of Dr. Dent in this dedicated space online: https://www.kudoboard.com/boards/apWQJUWi