Description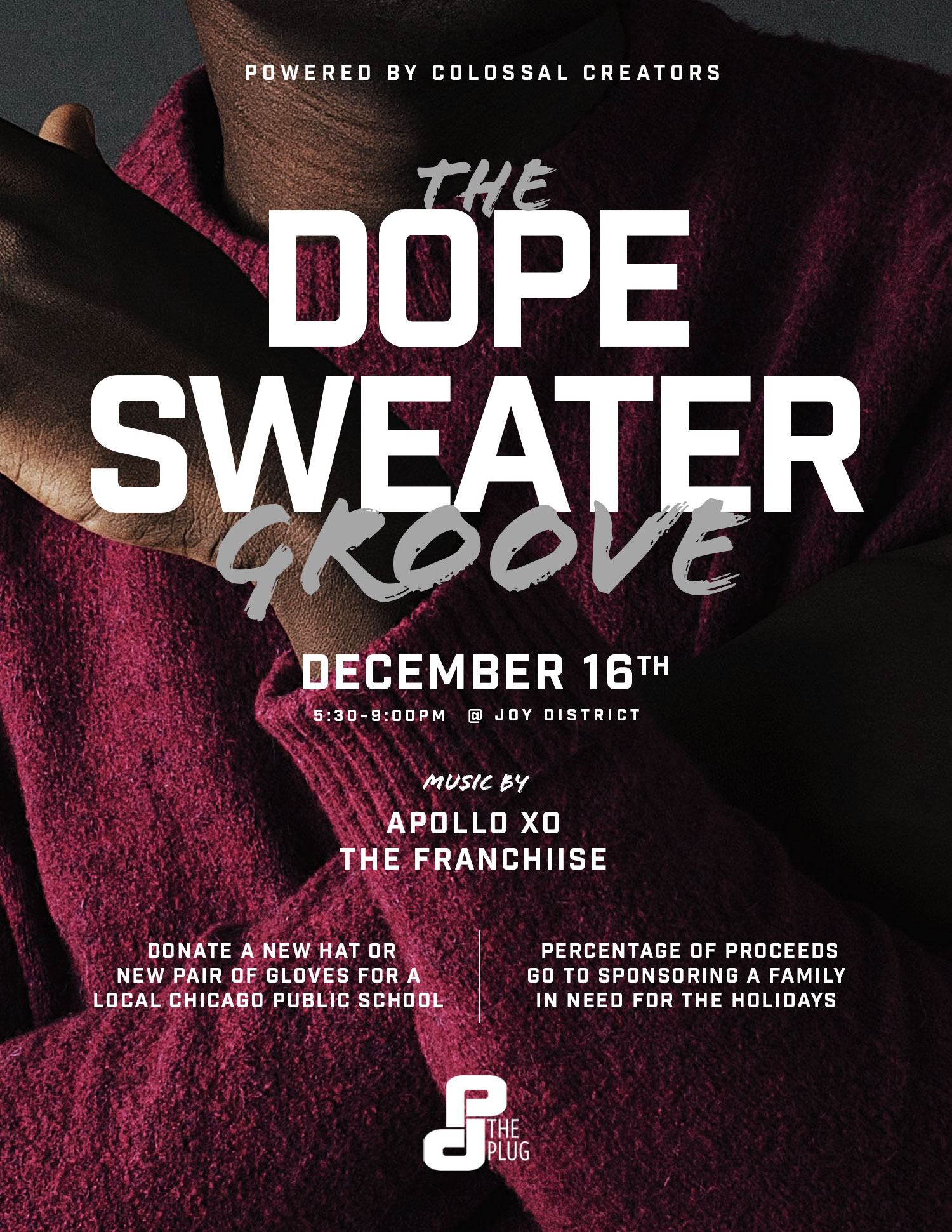 "Connects Open Doors"
2nd Annual Dope Sweater Groove
December 16, 2017
Time: 5:30 - 9:00 PM
Location: Joy District
This year we focus on how to be fashionable in the warmest of ways. The Plug presents its final installment of the 2017 year, "The 2nd Annual Dope Sweater Groove".
Come show off the dopest sweaters of the season, coupled with meeting and connecting with some of the best and most innovative millennial creatives, corporate hustlers, and influencers from both sides of creative and corporate sectors in Chicago.
What is "The Plug": A comfortable environment made up of millennial corporate professionals, creative entrepreneurs and influencers across a multitude of spectrums where thinking outside the box and innovation are the norm. This space allows for individuals to connect, share ideas, and create vibes/synergy around similar interests in addition to experiencing a newfound way of networking and lifestyles.
Started back in February of 2016, "The Plug" was founded by four young Chicago self-starters, one in the technology space, another in the sports realm, one Chicago creative and one entrepreneur. Due to their experience in the Chicago market with the lack of collaboration and immense segregation across industry and everyday life, they decided to create a platform where people can come relax, vibe, and experience something new; while meeting individuals who are on the same trajectory in mindset and work ethic as themselves no matter the profession.

Charitable Concept: With it being the holidays we are giving back with two different charitable donations.
First, we encourage everyone to bring a new hat or a pair of gloves that will be donated to Gale Elementary Community Academy.

Second, a percentage of ticket sales will go to sponsoring a family in need for the holidays.
Creative Showcase: With the holidays being a time for shopping and wardrobe boosts for most, this PLUG event will focus on up and coming fashion brands who do not have storefronts quite yet. We will create a market for people to shop and order, affording the opportunity to purchase unique gifts right in time for the holidays.
Participating Brands
Good Behavior
Rouge Bear
Muggsy Jeans
ADNS
Tru Lies
Vavi
Rebirth (Jewelry)
Khallective