Celebrating a "do-over" of The Do Over's 15th Year Anniversary. Established in 2005, this has remained an LA staple since it's inception!
About this event
Join GRAND PERFORMANCES on Saturday September 25th for the final show of the 2021 Summer Season as we celebrate the 15th Anniversary of the infamous international Do-Over!
Come to the FREE CONCERT at Grand Performances in DTLA on Saturday September 25th from 2 to 10 pm PST! Please note: Masks are highly encouraged.
Set Times:
2:00-3:30: The Do-Over DJ's (Strong & Haycock)
3:30-4:00: The Beat Junkies
4:00-4:45: DJ Nu-Mark
4:45-5:45: Quantic
5:45-6:45: Natasha Diggs
6:45-7:30: Surprise Guest
7:30-8:30: Four Color Zack
8:30-9:15: The Gaslamp Killer
9:15-10:00: The Beat Junkies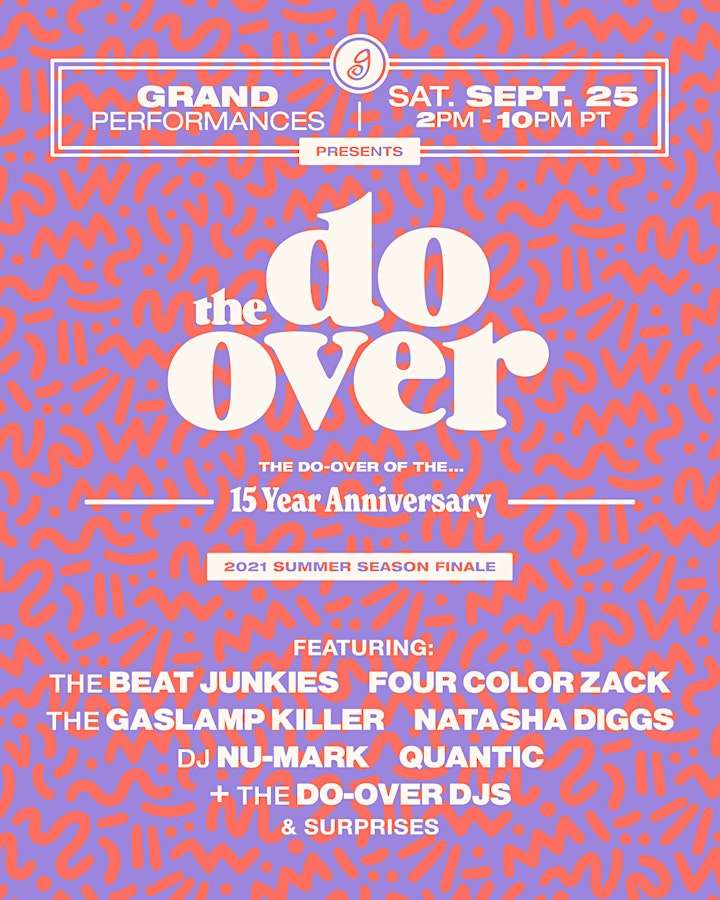 Established in 2005 in Hollywood, The Do-Over has been supplying the best summer Sunday party options ever since. The magical tropical daytime get-down has built a following like no other, all thanks to the deep consistent vibe and hang loose attitude, curated by founders Chris Haycock, Jamie Strong, and Aloe Blacc.
Over the years, The Do-Over has spread its fun-loving funky sounds across the world with a philosophy of keeping all guest DJ's a mystery encouraging attendees to leave all hype and expectations at home. Well-known for a template of free admission, sangria, buckets of beer and an all-day BBQ, The Do-Over is a stone cold winner to all who've experienced, proving to be the only sensible conclusion to a proper weekend of partying.
For more information please visit grandperformances.org.