Event Information
Refund Policy
Contact the organizer to request a refund.
Eventbrite's fee is nonrefundable.
Write Your Next Grant Proposal (or your first...)
About this Event
Write Your Next Grant Proposal (or your first...) and LOVE it in Less Than a Day (With LIVE Expert Feedback) Even If You Get Overwhelmed, Hate Writing, and Have ZERO Grant Experience
If you're solely responsible for the high-pressure task of applying for and securing grant funding for your small-to-medium sized nonprofit, it's easy to feel alone and overwhelmed when you have to find the right grants, meet funders' deadlines, and figure out what to say in your proposals – on top of running the rest of your programs!
Sadly, grant writing – which could easily be a game-changing skill for your organization – is known for being a stressful, mundane, and time-consuming obligation most nonprofit leaders dread doing.
In fact, some nonprofits could easily spend a month or more working on a single grant application with no certainty they'll ever see any of the money they're asking for.
On top of that, most funders will never give you feedback on your proposals, so you won't know what to correct in future applications, which makes grant writing one of the most challenging skills to improve when you don't have expert guidance.
To make matters worse: you could spend months waiting for an approval or denial letter – leaving you and your organization monetarily stifled when your programs need funding the most.
But what if your grant proposals didn't have to take up so much of your time?
What if the entire grant writing process wasn't fraught with uncertainty, and instead, you knew exactly what to write, and you no longer wasted time staring off into space in front of a blank grant application?
What if — there was a clear, step-by-step approach you could follow that would get you more predictable results from your grant applications so you felt confident about every proposal you submitted.
In this premium 2-day live virtual workshop with Grants Ink, you'll be able to complete an actual grant proposal for your organization from start to finish (which can often take a month or more!) with expert guidance while following a proven step-by-step framework to get grants DONE fast.
In other grant writing workshops, you'll learn the theory of grant writing – which is fine if you want to dabble as a consultant. But when your nonprofit is counting on you to bring in much-needed revenue NOW, there's little room for failure, and you must know what you're doing each step of the way.
In the DIY Grant Writing 2-Day Intensive, you'll get to craft your grant proposal in a supportive environment with like-minded participants, get feedback on your grant proposal in realtime from expert grant writers with years of experience, and even transform grant writing from a boring and stressful task into an empowering process (you just might love) that can sustain your organization all year!
Heck, you may even be empowered to become a professional grant writer!
At this premium 2-day live virtual workshop, you will:
Learn a proven, streamlined grant writing process that has earned nearly $15 million for Grants Ink's clients in the last decade so you'll always know what to say in your applications and you'll be able to go after grants for your organization with pure confidence...
Make use of (and take home) Grants Ink's proprietary foundation research list, which cost thousands of dollars and hundreds of hours to compile so you can quickly identify the appropriate grants for your program-of-choice without aimlessly hunting around the internet for grant opportunities on questionably outdated websites...
Work directly with and have your proposal reviewed by expert grant writers who know exactly what funders are looking for so you can avoid the common pitfalls that prevent most organizations from earning grants…
Avoid wasting time and money on resources that only teach you the theory of grant writing without holding your hand through the ACTUAL grant writing process...
Leave with a real, completed grant proposal you can submit to get actual funding for your nonprofit in a fraction of the time and learn how you can repeat the process for future proposals…
... and much, MUCH More!
Don't miss this premium 2-day live virtual workshop where you can apply the same exact knowledge the big nonprofits use so you can finally compete and bring in the kind of revenue your organization needs to thrive, grow, and serve at its highest capacity.
But you must register now – seating is limited to 15 participants!
Class Agenda
Day 1: Thursday, July 30th
1:00 pm -1:30 pm: Live Welcome* & Introductions
1:30 pm - 3:30 pm: Video Instruction 1: Research & Workplan Development
4:00 pm - 5:30 pm: Live Instruction: Project Rollout – Drafting a grant proposal
Day 2: Friday, July 31st
9:00 am - 10:00 am: Video Instruction 2: What is a proposal? Establishing an outline*
10:00 am: Email assignment
10:15 am - 12:00 pm: Video Instruction 3: Let's draft your proposal!
12:00 pm – 1:00 pm: Break
1:00 pm - 2:00 pm: Live Check – in
2:00 pm – 4:00 pm: Individual & Group Work Time
4:00 pm - 6:00 pm: Live Presentations and Feedback
6:00 pm - 6:30 pm: Final Thoughts*
Active C4SC Members receive 20% off!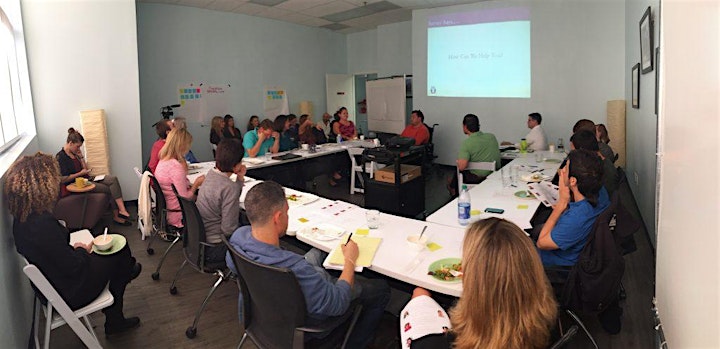 About the presenter:
Grants Ink © mission is to empower nonprofits with the knowledge and skills to craft proposals that attract funders and create real change in the community. We believe that grant funds should be equally accessible to all qualified nonprofits and that with the right tools, organizations can achieve sustainability and growth. We're here to support impactful causes that serve our communities needs and create a better world for all.
Lorinda Gonzalez is an AGWA Certified Grant Writer and Trainer and Director of Grants Ink ©.
She brings over 10 years of grant writing experience to the team leading to over $14M in awarded funds from government, local and private funders.
Additional details:
This workshop will be hosted on Zoom. You will receive the link to access the workshop via email after signing up.
The workshop recording will be available for viewing for a limited time to participants who complete the evaluation survey at the end of the workshop.
Image and Audio Consent and Release:
This workshop will be recorded. By attending this event, you acknowledge that your image and audio may be captured in the recording pending your participation, and you agree that the Center for Social Change reserves the right to license, sell, archive, maintain, distribute, and/or share the workshop recording for any reason or purpose, and you release the Center for Social Change from all liability related to the live virtual workshop or the use of its recording.
Date and Time
Location
Refund Policy
Contact the organizer to request a refund.
Eventbrite's fee is nonrefundable.