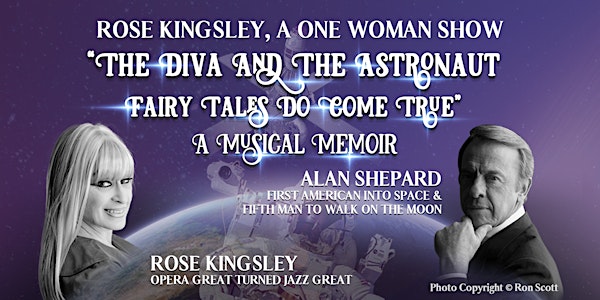 "THE DIVA & THE ASTRONAUT FAIRY TALES DO COME TRUE" - A MUSICAL MEMOIR
"The Diva and The Astronaut Fairy Tales Do Come True"
When and where
Location
Summerlin Performing Arts Center 1771 Inner Circle Drive Las Vegas, NV 89134
About this event
Contributing Author: Dr. James Hansen, Author of the Book, and Academy Award Winning Movie "First Man" and former NASA Historian.
Musical: Bob CorwinThe Diva and The Astronaut, a Musical Drama, is the story of Opera Great Turned Jazz Great Rose Kingsley and Astronaut Alan Shepard the First American In Space and the Fifth Man to walk on the moon.
Join Rose Kingsley as she takes you on a journey of her life from her early childhood when she had a keen interest in dance, music, and space. When the Mercury Seven Astronauts were introduced to the world only Alan Shepard caught Rose's attention and made her feel as if she had known him in another time and place. As her music career developed as a Diva performing in Major Opera Houses throughout the world including The Metropolitan Opera, the torch that she carried for this hero for 25 years became a reality when they met by chance. A meeting that developed into a 14 year relationship.