"The Diva and The Astronaut Fairy Tales Do Come True"
About this event
Contributing Author: Dr. James Hansen, Author of the Book, and Academy Award Winning Movie "First Man" and former NASA Historian.
Musical: Bob CorwinThe Diva and The Astronaut, a Musical Drama, is the story of Opera Great Turned Jazz Great Rose Kingsley and Astronaut Alan Shepard the First American In Space and the Fifth Man to walk on the moon.
Join Rose Kingsley as she takes you on a journey of her life from her early childhood when she had a keen interest in dance, music, and space. When the Mercury Seven Astronauts were introduced to the world only Alan Shepard caught Rose's attention and made her feel as if she had known him in another time and place. As her music career developed as a Diva performing in Major Opera Houses throughout the world including The Metropolitan Opera, the torch that she carried for this hero for 25 years became a reality when they met by chance. A meeting that developed into a 14 year relationship.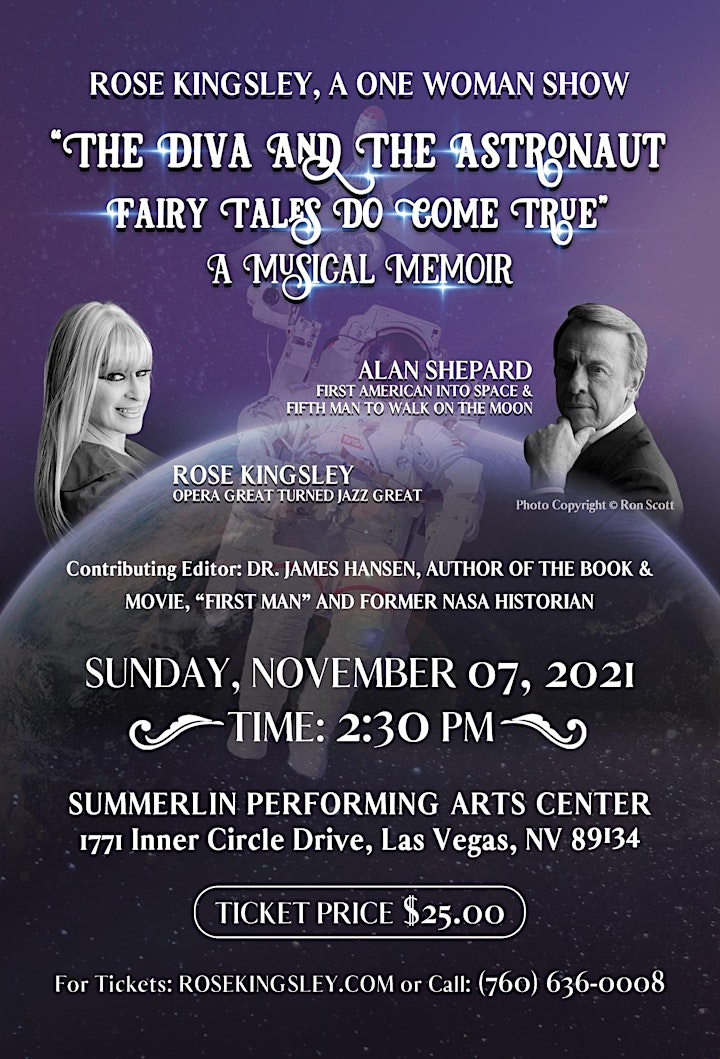 Organizer of "THE DIVA & THE ASTRONAUT FAIRY TALES DO COME TRUE" - A MUSICAL MEMOIR
ROSE KINGSLEY
  "OPERA GREAT TURNS JAZZ GREAT"
  IF YOU LIKE SINATRA… THEN ROSE KINGSLEY FITS THE BILL
Opera great turned jazz great Rose Kingsley is now wowing audiences from Hollywood to New York with her unique singing style. Rose's operatic training, 4 octave range, and rich sultry voice allows her to tell the story of the songs she sings in a way that taps into the intimate side of her artistry and touches the heart and soul of her audience. After her debut at Birdland Jazz Club NYC, Rose has been dubbed by New York music critics as the FEMALE SINATRA.
Rose has performed at such venues including, The Metropolitan Opera, NYC and Steinway Hall NYC, Houston Grand Opera to name a few.
She has performed with such greats as Luciano Pavoratti, Placido Domingo,   Bob Hope, Frank Sinatra, Peter Nero, John Denver, Kathryn Grayson, and Connie Francis.
Rose has also shared her talent for 3 U.S. Presidents, George H.W. Bush, Gerald Ford, and William Jefferson Clinton. She has also done a Command Performance for HRH Prince Charles.
Rose has now successfully crossed over from Opera to Pop Jazz and Blues and last year released her first CD Album "This Is My Life" that received 5 Star reviews from Associated Press and Jazz Weekly. To quote Associated Press "ROSE KINGSLEY IS A WELCOMED AND MUCH NEEDED SHINING NEW STAR FOR JAZZ AND CABARET AFICIONADOS."
Rose is now performing and wowing audiences throughout the country at such prestigious jazz clubs to include BIRDLAND NYC, FEINSTEIN'S 54 BELOW NYC, THE METROPOLITAN ROOM NYC, CATALINA JAZZ CLUB HOLLYWOOD, JAZZ KITCHEN DALLAS, ALONG WITH PERFORMING ART CENTERS.
Marilyn Lester of Cabaret Scenes Says
"WITH A SUPERB UNDERSTANDING AND CONTROL OF HER VOICE, NO ONE WOULD EVER GUESS THAT ROSE KINGSLEY WAS ALSO AND OPERATIC DIVA, KINGSLEY HAS MADE THE TRANSITION FROM THE OPERA STAGE, WHERE SHE ENJOYED GREAT SUCCESS, TO POP/BLUES/JAZZ SINGING WITH EASE."