Description
Close to 40 years ago, the groundwork was laid for what will inevitably become AI's best bet at building consciously creative machine intelligence. Fast forward twenty years, and those 70s principles were then combined into a group of neural network patents that have enabled machines to truly think, discover, and invent, the so-called Creativity Machine Paradigm. Now, after yet another twenty years, those same machines dwarf the human brain in terms of synaptic connection density and have, arguably, become self-aware, synthetic minds.
An inherently disruptive technology at all its previous stages, this talk celebrates a new and even more disruptive AI invention that goes by the name "Device for the Autonomous Bootstrapping of Unified Sentience," or "DABUS" for short. In this session, Stephen Thaler, Ph.D., its inventor, will describe the three main patent waves leading to this technology, the many applications of each, and their potential roles in medicine, especially in understanding a range of human psychopathologies.
Disruption and controversy are sure to follow as the technological powers that be, circle their wagons and hire more meme generators to battle an undeniable truth now rising from a sea of AI-related fallacies.
Please park in P2 in the oneC1TY parking garage.
8:15 AM - Coffee with light breakfast and networking

9:00 AM - Stephen will present followed by a Q&A session

10:00 AM - Program ends
---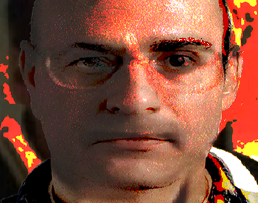 DABUS' first impression of Thaler 12-28-2010
Stephen Thaler earned a Ph.D. in Physics from the University of Missouri-Columbia, his thesis research dealing with radiation damage in silicon. In conducting this research, he simulated such damage in computational lattice models, forerunners of modern-day artificial neural networks. Following his 15-year career at McDonnell Douglas, he set out on his own, filing patents that by no accident dealt with purposely and gainfully damaging neural nets. He is currently President and CEO of Imagination Engines, Inc., a company specializing in computational creativity and catering primarily to DoD. He is also known for his forays into both human and machine consciousness, actively publishing and lecturing on these topics.
In one of the first medical applications of this technology Thaler worked with a St. Louis based orthopedic surgeon in recommending optimal pre- and post-operative regimens, as well as appropriate metallurgical blends for implants. He has also worked with the National Counsel Against Health Fraud in carrying out root cause analysis related to certain dubious health practices, and recently assisted physicians in building disease prediction systems based upon family history. His hope is to use his technology to devise personally tailored targeted medical treatment plans, as well as building the necessary AI for extremely clever diagnostic and therapeutic robots.