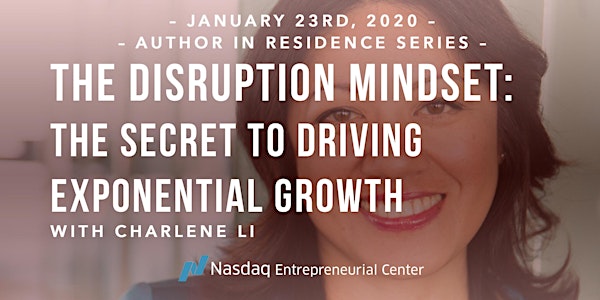 The Disruption Mindset: The Secret to Driving Exponential Growth
When and where
Location
Nasdaq Entrepreneurial Center 505 Howard Street Plaza Level San Francisco, CA 94105
Description
Join
Charlene Li for a discussion on
The Disruption Mindset: The Secret to Driving Exponential Growth
Many start-ups make "disruption" their goal. They believe if they just develop the right innovation, they will disrupt their markets forever and drive the kind of growth worthy of a magazine cover story. But that's not how disruption works. Disruption doesn't create growth; growth creates disruption. While growth is always hard, disruptive growth is exponentially harder. It requires companies to make tough decisions in the face of daunting uncertainties: Should we bet our company's future on the next-generation customer or today's reliable one? Should we abandon our current business model for an entirely new one? Disruption demands bold leadership and, often, massive cultural transformation. To be on the right side of that disruption requires having a growth strategy that aligns the entire organization around the future customer experience, as well as the leadership and culture to execute that strategy.

Attendees will learn:
Identify and prioritize the right disruptive growth moves — and align the organization around them.

Understand how leaders must show up differently when pursuing a disruption strategy.

Hardwire disruption into your organization's culture
OUR SPECIAL GUEST



For the past two decades, Charlene Li has been helping people see the future. She's an expert on digital transformation, leadership, customer experience and the future of work. She's the author of six books, including the New York Times bestseller, Open Leadership and co-author of the critically acclaimed book, Groundswell. Her latest book is the bestseller The Disruption Mindset. She is the Founder and Senior Fellow at Altimeter, a disruptive analyst firm acquired in 2015 by Prophet. Named one of the most creative people in business by Fast Company, Charlene is a graduate of Harvard College and Harvard Business School.
The Nasdaq Entrepreneurial Center is a 501c(3) public charity whose mission it is to make entrepreneurship accessible to all. We deliver world-class resources and mentoring to enable every entrepreneur across the globe to realize their maximum potential. Please join us and make your gift to ensure these transformative programs may continue to reach the underserved.