Event Information
Location
St Anthony's PD Centre
10425 84th Ave NW
Edmonton, Alberta T5X5C4
Canada
Description
This Discovery Education Experience is a professional learning experience brought to you by Discovery Education and the Edmonton Catholic School District. The day is focused on three simple but important goals: learn, share, connect.

This professional learning day will assist both teachers and educational leaders learn more about integrating digital content into their curriculum provide opportunities for participants to share strategies that are working and connect attendees to their most valuable resource…each other.
Sessions will have a focus on using the range of resources, strategies and learning opportunities from Discovery Education and additional ways to incorporate technology including green screening, makerspaces, virtual and augmented reality and more. We will also have a leadership strand.

We invite you to make connections with fellow community members and learn by attending presentations given by members of the Discovery Education Team, STAR Discovery Educators, and special guests.
8:30-9:00 Registration
9-9:45 Opening "The Real Discovery Magic" Dean Shareski
10:00-11:00 Session 1
11:15-12:15 Session 2
12:15-1:00 Lunch and Maker Space Playground
1:00-2:00 Session 3
2:15-3:00 Reflection and Closing Session with Prizes!
Here's a look at some of the sessions.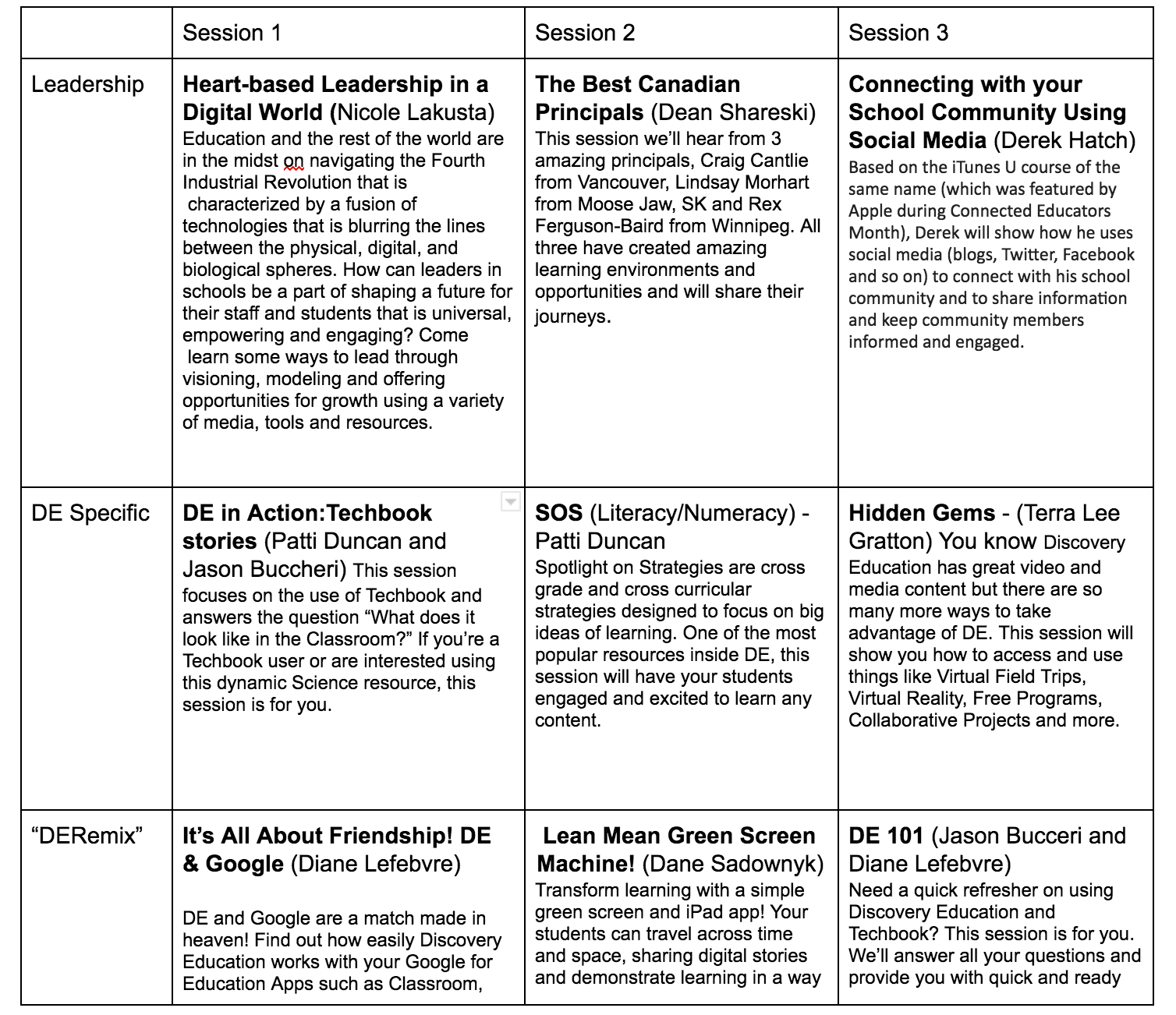 There will also be a makerspace playground at lunch hosted by Trisha Roffey where you'll be able to play and explore with all kinds of cool toys!
This FREE learning opportunity is open to any educator.
Lunch will be provided
Please bring your own device (Laptop or Tablet recommended).
Grab your spot now!
Date and Time
Location
St Anthony's PD Centre
10425 84th Ave NW
Edmonton, Alberta T5X5C4
Canada