The Discovery and Study of a Higgs Boson at the Large Hadron Collider

Wednesday, November 13, 2013 from 4:00 PM to 6:00 PM (EST)
Event Details
Please join us for "The Discovery and Study of a Higgs Boson at the LHC (Large Hadron Collider) — A lecture by Dr. Joe Incandela", a free event for the scientific community — graduate level and higher — at the Simons Foundation, located on 21st Street in Manhattan. Limited seating is available on a first-come, first-served basis. We encourage you to obtain tickets online now through Eventbrite.
Abstract
The Large Hadron Collider (LHC) at the European Organization for Nuclear Research (CERN) near Geneva, Switzerland has performed spectacularly well in its first major running period: from December 2009 through February 2013. Data of unprecedented quality and quantity have been recorded for proton-proton collisions at energies of 7 and 8 trillion electron volts — the highest energies ever obtained.
In this talk, Incandela will present an overview of the LHC physics program, including highlights from the discovery of a Higgs boson and a summary of more recent studies that incorporate more data. He will also briefly discuss expectations for future results in years to come.
About the Speaker

Joe Incadela is distinguished professor of physics at the University of California, Santa Barbara and a guest professor at CERN. He is the current spokesperson and executive head of the Compact Muon Solenoid (CMS) experiment for 2012-2013, and in July 2012 he presented the experiment's observation of a new particle resembling a Higgs boson. His current work focuses on the completion of data analyses on all 2011-2012 data, as well as the consolidation of data, repair and upgrades to the detector for future running periods.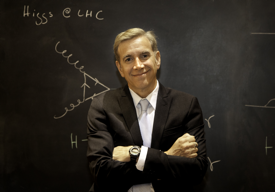 Schedule
Tea                              4:00PM
Lecture and Q&A        4:30-6:00PM
Location
Gerald D. Fischbach Auditorium
Simons Foundation
160 Fifth Avenue, 2nd Floor
(Entrance on 21st Street)
New York, NY  10010
The Gerald D. Fischbach Auditorium offers accessible seating to patrons with special access needs. Please fill out the special accommodations request when ordering your ticket online.
Simons Foundation Lectures schedule is available here.
Inquiries: lectures@simonsfoundation.org.
When & Where

Gerald D. Fischbach Auditorium, Simons Foundation
160 5th Avenue
New York, NY 10010


Wednesday, November 13, 2013 from 4:00 PM to 6:00 PM (EST)
Add to my calendar
Organizer
The Simons Foundation launched the Simons Foundation Lectures in 2013 with the intention of drawing area scientists and scholars together around diverse and important topics in mathematics, physics, computer science, life sciences and autism research.  

To read more about the Simons Foundation mission and its programs, please visit simonsfoundation.org.