Description
Healthy soil makes for a healthy garden yet most of us treat our soil like dirt. Join Zhenwei Zhu from Loyola University to learn the basics of soil composition, what NPK really means (and how it impacts your vegetable garden), what to expect from a soil test and how to have your best garden ever. Soil maintenance isn't just a spring thing. October is a great month to dig in and prep your soil for a great 2020 garden.
We'll offer all our soil products at 25% off for attendees of this class.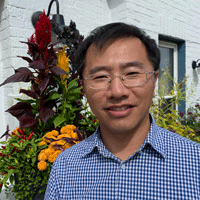 Your instructor, Zhenwei Zhu, is a lab manager and analytical chemist at Institute of Environmental Sustainability (IES) of Loyola University Chicago. He earned a Ph.D from University of Tennessee, Knoxville, in Environmental Engineering. He manages the Loyola Environmental Testing Laboratory (LETL). LETL is a full-service laboratory, equipped with state-of-the art analytical instruments, offering agricultural testing for soil, plant tissues, soil amendment material (compost) and environmental testing for inorganic nonmetallic constituents, metals and physical properties of drinking water and wastewater. He has more than eight years of experience in both environmental and agricultural testing laboratories.