Description
SCREENING POSTPONED DUE TO INCLIMENT WEATHER-- CHECK AGAIN FOR LATER DATE.
The Dinner Table is back like you've never experienced before. Join us for our annual holiday dinner event themed "Hotcombs N Sunday Dinners" -- Both the kitchen and the dinner table have been safe spaces where mothers (and mother like figures) nurture and empower young women the tools needed to navigate through life; and that's the environment we tend to create.
The Dinner Table Doc is all about promoting healthy images of women of color. Join us for a special screening of our brand new webseries "Deuce" Table For Two.
Deuce// Table For Two, brings together women that vary in career, age, background and personal interest to celebrate the multidimensional layers of identity among black women.

In true Dinner Table spirit, Deuce aims to create a safe space for women of color to share their truth and celebrate the accomplishments of the woman seated across the table. However, this series aims to focus on women excelling in careers in which you don't normally see women of color excel in via entertainment media (like politics, STEM, etc.)

The screening will be followed by a Q&A with director, Asha Boston.


Individual Screening tickets include:
A seat at our screening

A special gift bag (for the first 20 RSVP's)
The Screening begins at 7:30PM SHARP. Tickets are non-refundable.
Share your experience via social media using the hashtag: #TheDinnerTableDoc
Follow @dinnertabledoc on Twitter and Instagram.
For more information regarding "The Dinner Table" e-mail info@thedinnertable.com with requests and inquires.
---


For press inquires please send request to info@thedinnertabledoc.com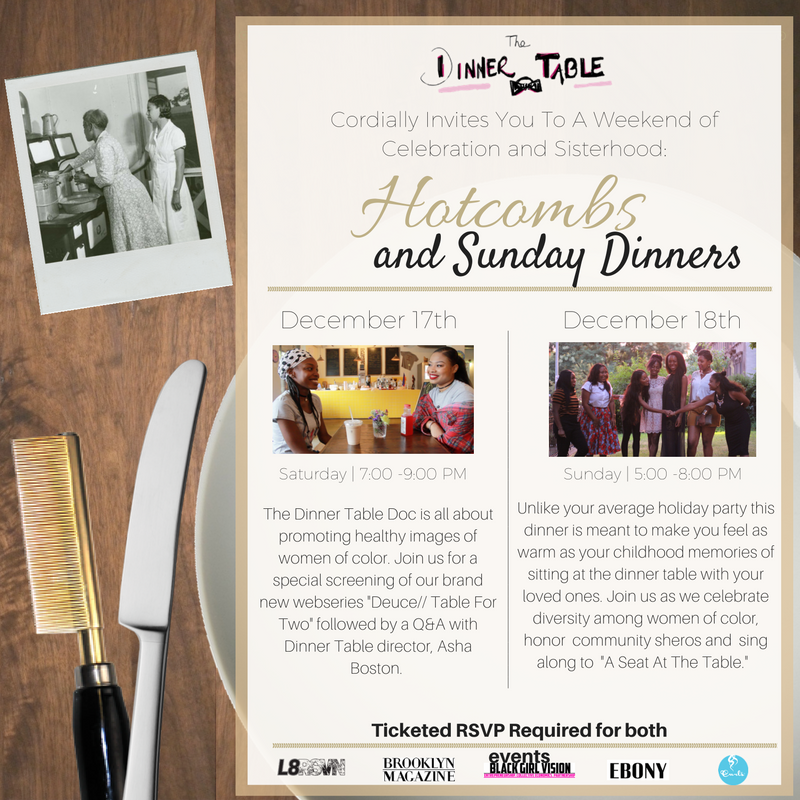 and our screening taking place at Union Docs a Center for Documentary Art in Williamsburg focused on empowering residents of the Brooklyn Community.
See the space below: