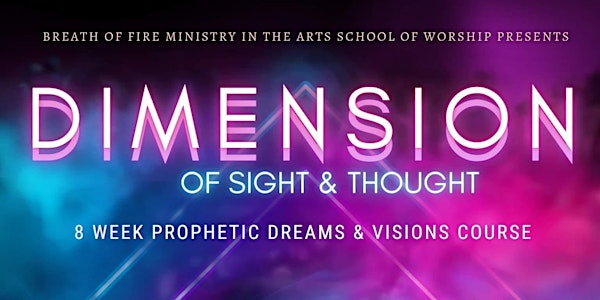 The Dimension of Sight and Thought: Prophetic Dream and Vision Course
Dreams are the language of God, and interpretation is a skill that needs to develop. God desires to speak to us, but do we understand Him.
About this event
Dreams require the truth of God's mind to be revealed in order for them to be understood. Dreams are the language of God, and he desires that we understand what He is saying. Many people are bound because they are not effectively interpreting the voice of God through dreams and visions. Dreams carry instruction, correction, purpose and keys to destiny But many have been deceived by the enemy and due to ignorance of the TRUTH of God's WORD.
Are you a person who has dreams and you do not understand?
Are you a prophetic intercessor and need better understanding and clarity on the voice of God in prayer?
Are you a seer, emerging prophet or prophetic voice, and you need greater clarity on how to steward Gods voice?
If so, than this is the class for you.
This is a 8 week prophetic dream and vision course that is designed to help you purge the gates of your soul that you would be healed, set free and delivered in the area of your dream life.
Again, Dreams are the a language of God and He desires that we come to know Him and understand His mind and heart pertaining to what He is saying.
During this course you will be have access to a private Face book group community, Video lessons, power point presentations and dream resources.
The cost is just $150.00 for the entire 2 month course with 2 payment plan options
Classes are held via Facebook live on our group page.
This is a class that you do not want to miss! This will challenge you to go higher and deeper in your understanding of Gods word and relation with Him.
REGISTER Now!