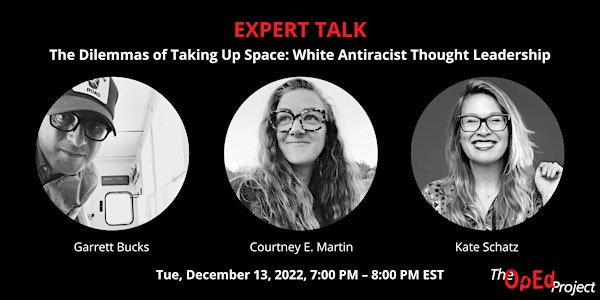 The Dilemmas of Taking Up Space: White Antiracist Thought Leadership
Expert Talk with writers and organizers Courtney Martin, Kate Schatz, and Garrett Bucks.
Refund Policy
Contact the organizer to request a refund.
Eventbrite's fee is nonrefundable.
About this event
Expert Talk - The Dilemmas of Taking Up Space: White Antiracist Thought Leadership
It's beyond time for White people to take their role in ending racism seriously, and yet, when this quest happens in public, complications arise. How should White authors, newsletter writers and organizers think about the space they take up in the public dialogue around race? There does seem to be a real strategic advantage to having relatable White people inviting other White people along, and yet, it's frustrating when White audiences respond to "trusted messengers" saying the same thing people of color have been saying for years. What creative, responsible and radical ways exist for White authors to be truly accountable? What ways can White authors share opportunities with leaders of color who are writing about racial justice that don't feel tokenizing but genuinely collaborative? And how should White writers be thinking about the money they earn from writing about racism? These are just a few of the complex dynamics we hope to address.
Courtney Martin is the bestselling author of "Learning in Public: Lessons for a Racially Divided America from My Daughter's School," which describes her decision to enroll her daughter in a majority-Black local public school. While writing and promoting the book, Martin found herself tackling critical questions about the role of white thought leaders with anti-racist messages. Courtney will explore questions around messengers, accountability, opportunity, and money with two of the nation's most prominent white thinkers and organizers on racial justice: Kate Schatz, author most recently of Do the Work with W. Kamau Bell, and Garrett Bucks, founder of the Barnraiser Project and author of The White Pages on Substack.
This 60-minute virtual live event + Q&A is part of The OpEd Project's series of Expert Talks exploring aspects of voice, identity, and how ideas come to change the world.
REGISTRATION
This event is open to all, regardless of means. Because there is limited capacity, and to help us estimate attendance and foster a sustainable model, we ask everyone to register and pay what you can. We provide a suggested sliding scale, and if the lowest tier is a financial hardship, we will provide a full scholarship to anyone in need. If you need assistance, email info@theopedproject.org. Once you are registered, you will get a confirmation email with a zoom link to join the webinar.
ABOUT THE OPED PROJECT
The OpEd Project is a global thought leadership project that accelerates the ideas and impact of underrepresented voices, including women of all backgrounds. We are a community of journalists, commentary writers, thought leaders and change-agents who actively share knowledge, resources and connections across color, creed, class, sexuality, gender, age, ability and beyond. We have been featured in most major media. We have stunning results. We believe the best ideas, regardless of where they come from, should have a chance to be heard and change the world. Learn more at www.theopedproject.org.
ABOUT THE EXPERTS
Courtney E. Martin is a writer, entrepreneur, and activist. She is the author of five books, including most recently Learning in Public: Lessons for a Racially Divided America From My Daughter's School. Courtney is also the cofounder of the Solutions Journalism Network and FRESH, a speakers bureau and online training program. She writes a popular Substack newsletter called Examined Family. She lives in Oakland in a cohousing community and co-leads the local chapter of Integrated Schools.
Garrett Bucks is an organizer and writer in Milwaukee, WI. For the first dozen or so years of his career, he followed the kind of path that would be familiar to a lot of social-justice-inclined white people. He taught fifth graders on the Navajo Nation and refugee adults in Chicago. He received a Fulbright Fellowship to study international solidarity work in Sweden and Tanzania. He held both local and national leadership positions at Teach For America. And then…well… he left that path. The short version is that he started to question why the default assumption amongst do-goodery white people is that "the work" is always in other peoples' towns and neighborhoods. Currently, he trains White people to organize their communities for collective liberation through The Barnraisers Project and writes about all that and more at The White Pages.
Kate Schatz is an author, activist, public speaker, educator, consultant, and queer feminist mama who's been talking, writing, and teaching about race, gender, social justice, and equity for many years. She's the New York Times-bestselling author of the "Rad Women" book series; the 33 ⅓ book Rid of Me: A Story; and Do the Work: An Anti-Racist Actvity Book, co-written with "United Shades of America" host W. Kamau Bell. She lives in the San Francisco Bay Area with her wife and kids and pets.