The Digital Doctor: Hope, Hype, and Harm at the Dawn of Medicine's Computer...
Description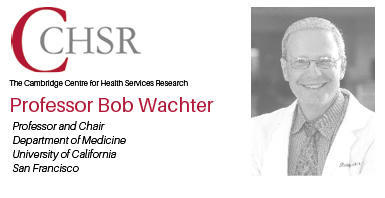 Everyone had high hopes that computers would be that magic bullet we've been desperate for to improve safety, quality, and efficiency. But the path to digital nirvana has been bumpy at best, in both the US and UK. Dr. Robert Wachter, chair of UCSF's Department of Medicine, bestselling author of "The Digital Doctor," and leader of the group that authored the 2016 "Wachter Report" on digitising the NHS, describes why digitising healthcare is so hard, and what needs to be done to get it right. He'll draw on examples from both the US and UK, and summarize the key recommendations from his committee's work, work that transformed the path to digitisation in the NHS.
Speaker
Robert M. Wachter, MD is Professor and Chair of the Department of Medicine at the University of California, San Francisco, where he is the Holly Smith Distinguished Professor in Science and Medicine and the Benioff Endowed Chair in Hospital Medicine. In 2017, the UCSF department of medicine was ranked first in the nation by US News & World Report, and the department is the country's leading recipient of NIH grants.
For the past nine years, Modern Healthcare magazine has ranked him one of the most influential physician-executives in the U.S. featuring as #1 on the list in 2015. His 2015 book, The Digital Doctor: Hope, Hype and Harm at the Dawn of Medicine's Computer Age, was a New York Times science bestseller. He recently chaired a blue ribbon commission advising England's National Health Service on its digital strategy.
Tea and coffee 5.30pm
Lecture 6pm
Wine and nibbles 7pm
Register for this Event
Please register by 8 November. There is no charge to attend, but seating is limited and advanced registration is required. For further information, contact rand_europe@rand.org.