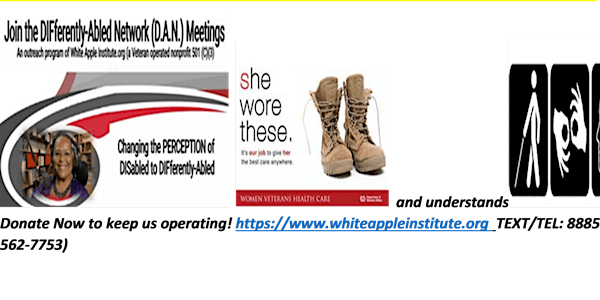 The DIFferently-Abled Network (DAN) Sponsored by ASK DR APPLEwhite
An exciting, innovative approach to restoring HOPE in the Workforce in these PANDEMIC and WAR Times
About this event
The DIFferently-Abled Network (DAN) is an outreach program of White Apple Institute a Veteran operated nonprofit 501 C (3). JOIN our monthly meetings for an exciting, innovative approach to restoring HOPE in these Pandemic and War Times to prevent DROP-OUT/BURN-OUT from the classroom, workplace, and LIFE!
WE Exist because thirty 30+ Military Veterans die by suicide daily, 1100 college students died by suicide in 2021 about 60% are employees and parents. Who attends DAN meetings?
• Community Partners (i.e., Educators, Employers, Counselors-Vocational Rehabilitation/Independent Living, Faith-Based/Religious Leaders, Health & Wellness, Social work, VA-Veteran Services, and more) share opportunities, resources
• Employees, working students and parents are encouraged to ASK for what they need to SUCCEED! We listen and try to resolve problems with finding disability resources, benefits; Handling discrimination; Advocating for accommodations; Living a quality life with a Visible or Hidden Disability (i.e. Mental, Learning, Chronic Pain/Stress, etc.).
• Women Veterans are Priority! Make a Tax-deductible DONATION or Volunteer. Learn more at https://www.whiteappleinstitute.org/ TEL: 88856APPLE (888-562-7753)
AGENDA
SPECIAL GUESTS/UNIQUE TOPICS- Hosted by Danita Applewhite PhD-CRC/Army Veteran. ASK DR APPLEwhite- Disability Advice, Advocacy CURRENT NEWS/UPDATES White APPLE Wellness-Dr. K (Keisha Tate), Dr. Bev SPECIAL FEATURE for VETERANS- Dr. Carl Forkner Disabled American Veterans (DAV) DIFferently-Abled Artists & Musicians-Tony Magno, Nellie Andersen
Special Thanks to our SPONSORS & Community Partners: Unite US, Interfaith Community Spiritual Center, Veterans Medical Leadership Council, East Valley Ride, Good Shepherd Transportation, Disabled American Veterans, Paralyzed Veterans of America,,,.