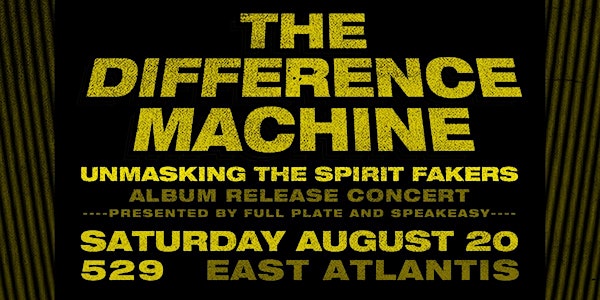 The Difference Machine - Unmasking the Spirit Fakers Album Release Concert
presented by Full Plate and Speakeasy
Location
529
529 Flat Shoals Ave SE
Atlanta, GA 30316
The Difference Machine - UNMASKING THE SPIRIT FAKERS - Album Release Concert at 529 on Saturday August 20th
About this event
Who are the spirit fakers? What do they want? These are just two of the many questions posed by The Difference Machine on their 3rd full length album, 'Unmasking the Spirit Fakers'.
Loosely based on an essay by the master magician himself, Harry Houdini, 'Unmasking the Spirit Fakers' finds the Atlanta-based psychedelic hip hop outfit examining the motives and practices of those who attempt to provide cure-alls and treatments for spiritual ills. Are they gurus or snake oil salesmen? Though abstract in their approach, The Difference Machine attempts to pin down these answers for the listener via a vast backdrop rich with dense lyricism and mind-bending production. Songs like 'Repeater' and 'Flat Circles' place them in the role of shaman whereas songs like 'Car Key' and 'It Ain't' venture to ask if they themselves are the spirit fakers in question.
Regardless of what role the ensemble assumes, the album was crafted with the human psyche in mind. Poignant guest appearances from hip hop heavyweights such as Sa-Roc (Rhymesayers), Quelle Chris (Mello Music Group), Homeboy Sandman, Denmark Vessey, Dillon & Sum add more colors to the canvas. The only wish of The Difference Machine is that the listener is both entertained and enlightened by this auditory adventure. They hope whatever conclusion you come to will be through honesty and sincerity.
Perhaps one day we will all be unmasked.