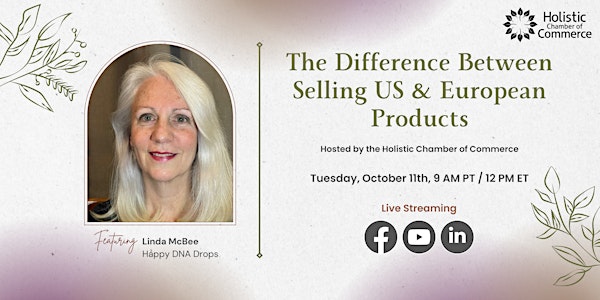 The Difference Between Selling US & European Products
Learn the differences between manufacturing and selling health and skincare products in the US & Europe.
About this event
Do you sell products that are made in the United States? Or do you sell European lines? There is a difference!
Come learn the implications of location, culture, ingredients, and manufacturing when selling health and skincare products, from our special guest Linda McBee!
Livestreaming on the HCC Facebook, LinkedIn and Youtube Channels.
WHEN: Tuesday 10/11 from 9:00 - 9:45 AM (Pacific) / Noon - 12:45 PM (Eastern)
Free for everyone to watch ~ Stay supported in life and business with us!
Click here to get to know Linda ahead of time.
The Holistic Chamber of Commerce is here to help people find holistic approaches to health, life and business. On the flip side of that, we help holistic professionals collaborate and connect with more customers, clients and patients AND like-minded business support.