Description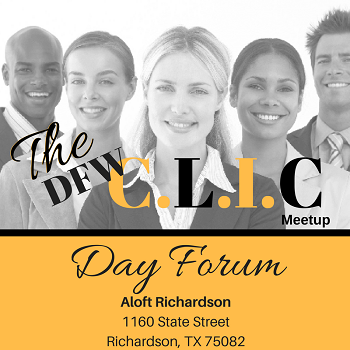 This is the first official DAY FORUM for The DFW C.L.I.C and we are partnering with DFW Small Business Workshops and Events Meetup to learn, share, and grow while together. Come enjoy the coffee and snacks while you listen to the presentation. Be sure to bring tons of business cards to share with others in the group, & have your 30 second & your 1 minute speech ready because you never know who will be chosen to share in detail. This meetup is for the serious entrepreneurs. Whether you're a startup or seasoned in the art of business, you're welcomed to share your offerings with the group.
The goal of The DFW C.L.I.C is to build CONFIDENCE in your LEADERSHIP with INFLUENCE and CONSISTENCY.. With every Day Forum, you'll leave with an assignment designed to help you with this goal. You'd be suprised how much you can learn when you open yourself up to what happens OUT OF THE BOX.
I look forward to seeing you at our DAY FORUM event!
Date and Time
Location
Refund Policy