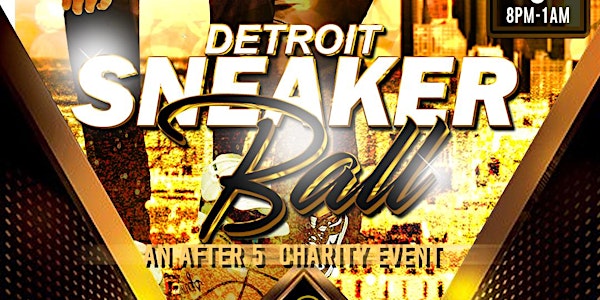 The Detroit Sneaker Ball - Detroit's Premiere Charity Sneaker Gala
U Please use this page for your direct donations.
When and where
Location
Grand Haus 2895 E Grand Blvd Detroit, MI 48202
About this event
To donate directly click the donate link.
For Tickets: Visit DETROITSNEAKERBALL.COM
Sneaker Ball – A theme that has been very popular amongst Southern and Midwest States, is now making its way to Detroit, MI. The Detroit Sneaker Ball is a celebration of life, art, culture, empowerment and Hip Hop.
On the evening of August 6th, 2022, guests will come dressed in their formal attire with a bit of a twist – SNEAKERS (Gym-shoes as we call them in the D) instead of their typical formal footwear. This event will take place in Downtown Detroit in the new center area at The Grand Haus. 2895 E. Grand Blvd. 48202.
Why Sneakers? Not only is the sneaker ball a celebration of art and culture, but it aims to bring awareness to disadvantaged youth and communities of color by providing new and gently worn athletic shoes and socks.Guest will have the opportunity to donate a pair of gently worn or new athletic shoes and socks (All sizes are welcomed). As well as give direct donations to If you are not able to donate actual shoes or socks, monetary donations are welcomed as well for the purchase of those items.
Think Wedding Reception minus the Bride and Groom. After 5 + Charity + Fly Kicks + Good Food, Drinks and Vibes…Please spread the word! My team is going to be collecting used gym shoes for the Kelechianuna foundation that donates to boys in Nigeria in need of shoes and Full Court Charity that's does great work locally. We will also be raising funds for the DAPCEP program at Durfee Innovation Center.
So grab some fly kicks, a fly dress/suit and come set this EPIC Swag Surf off with us!🌊
RSVP HERE: https://fb.me/e/1XLyQfRpI
For Tickets: Visit DETROITSNEAKERBALL.COM
To donate directly click the donate link.