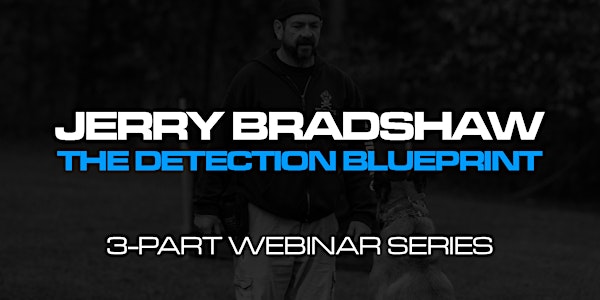 The Detection Blueprint with Jerry Bradshaw
Jerry Bradshaw presents The Detection Blueprint
About this event
Have you ever wanted to learn how to train K9 Detection from start to finish?
Join renowned trainer and author Jerry Bradshaw LIVE for his 3-part webinar series, The Detection Blueprint.
Over this 3-part series, Jerry will be breaking down detection and sharing the knowledge, insights, and tactics he's learned over a 25+ year career training working dogs.
Each session will be approximately 2 hours long and includes a Q&A at the end of each.
*Details*
You will receive the recorded replay for any session you purchase a ticket to.
The first session, The Process, will take place on October 24th, 2020. The following two sessions (The Process and Becoming Operational) date/time are still TBD but will take place in November and December, respectively.
Session 1: Detection Foundations
The history and context of detection training, various approaches, and philosophy.
Discussion of training aids, pseudos, stimulants, & real samples.
Storage and handling
Behavior of Scent
Session 2: The Process
Direct reward progression to Pay-on-Sniff
Hunting development for puppies & older dogs
Building interest in pipe
Discussion of detection stages
Troubleshooting
Discussion of the trained Final Response and stages involved
Session 3: Becoming Operational
Transitioning to loose hides
Setting up pipes
Maintaining trained final response on transition pipes
Camoflauging transition pipes
Moving to loose hides
Handling various issues (running knowns, single-blind and double-blind)
Problem Solving
If you're interested in detection training, this is a webinar series you simply cannot miss.