Description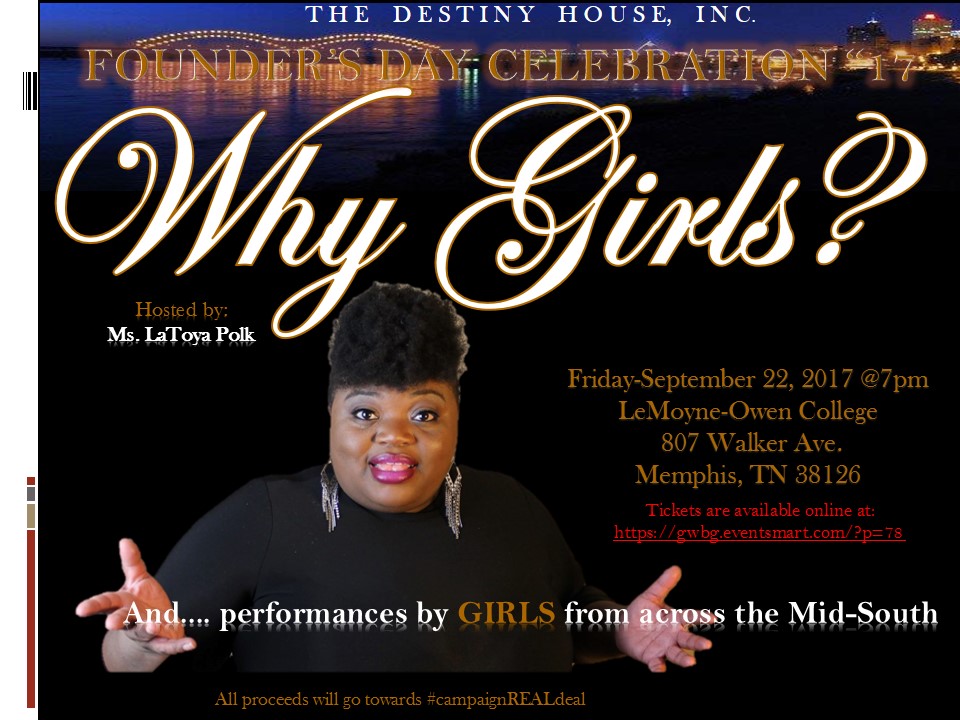 On behalf of the Founding Board of Directors, we are excited to introduce to the city and the world The Destiny House, Inc.

You are invited to share in a very special evening with me, the Founder and Executive Director, the Founding Board, and a few other special guests.
As you may or may not be aware, we are in the midst of a very exciting endeavor with the creation of the first all-girl public charter school in Memphis and we want to welcome you to share in our efforts of the development of Rich ED Academy of Leaders (REAL) and celebrate the awesomeness of women in our own special way.
This year's theme; "Why Girls?" seeks to recognize and celebrate the many gifts and talents of women and girls across Memphis and the Mid-South in the areas of: music, song, dance and spoken word.
The Founder's Day Celebration has been deemed our annual campaign and fundraiser and all ticket sales and additional proceeds will go towards start-up capital for our first proposed endeavor-Rich ED Academy of Leaders (REAL), an all-girl secondary public charter school in Memphis, TN.
It is my hope that you can join us on this evening on what I believe will be a commemorative occasion.
*For sponsorship information, please email: DestinyHouse901@gmail.com.
We look forward to sharing with you!