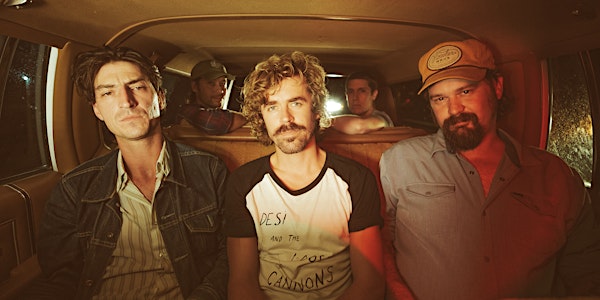 The Deslondes with special guest Caleb Caudle
Performers
The Deslondes
Caleb Caudle
Location
Eddie's Attic
515 B North Mcdonough Street
Decatur, GA 30030
The Deslondes at Eddie's Attic in Decatur, GA!
About this event
The Deslondes
We shed old skin in order to evolve and move forward. We let go of who we were in the past and embrace who we're meant to be now. The Deslondes have taken such steps as not only bandmates, but as brothers. The New Orleans quintet—Dan Cutler, Sam Doores, Riley Downing, Cameron Snyder, and John James Tourville—have weathered ups, downs, and everything in between only to strengthen the bond between them.
Infusing everything from saxophone, flute, and synth to string arrangements and a full drum kit for the first time, the group naturally progress and evolve in real-time on their third full-length offering, Ways & Means [New West Records].
"The title reminds me of being young, getting into the music business, going through everything, and coming out of it," Riley observes. "We're taking a look right, left, and back at ourselves."
"We were letting go of a bunch of old dynamics that left us burnt out," adds John James. "However, we're focused on being productive and on the other side."
The "other side" might just be their brightest yet. The Deslondes revealed their self-titled debut to widespread tastemaker applause during 2015. However, they really hit their stride on Hurry Home in 2017. Right out of the gate, Noisey proclaimed, "The Deslondes have found a comfortable sound to create art in, and it serves them well," while Rolling Stone noted, "The Deslondes' take on country relies on a gritty, grimy mix of early rock 'n' roll and lo-fi R&B." In addition to praise from American Songwriter, Paste, The Boot, and more, the record closed out the year on Uncut's "Favorite Albums of 2017."
Then, the musicians opted to quietly take a break. In the meantime, Sam shared his self-titled debut as Riley also served up his solo album, Start It Over. Maybe it was something in the air, but 2021 seemed like the perfect moment for the boys to pick up where they left off.
"I reached out to everybody individually," recalls John James. "Dan's got kids, and I've got kids. We'd been touring for a long time. Once I called, it seemed like everyone was really into it. We were excited about doing it again."
"I was in Lawrence, KS visiting my folks at the height of the Pandemic," Sam remembers. "I was walking down Massachusetts Avenue on a Sunday morning and wondering what I had left to give the world. Perhaps, I was experiencing a mild existential crisis from living off unemployment and facing the cancellation of my album release tours. Luckily, my phone rang. John James asked how I'd feel about making another Deslondes record with so much genuine enthusiasm it was contagious. We all owe it to him. Instinctually, a resounding 'Hell Yes' came out of my mouth."
Missing the camaraderie, the guys congregated at old haunt The Tigermen Den. Together, they worked out the songs before they entered the Bomb Shelter with longtime producer Andrija
Tokic. This time around, members brought in a host of ideas and agreed upon the process before recording.
"We came to some personal agreements about how everything was going to go down in advance," Dan elaborates. "From experience, we realized what we liked and who was good at what. In terms of the studio, it was probably the easiest album we've ever made. Usually, we're too busy touring to put a lot of thought into pre-production and ideas. This was definitely the most prepared we've ever been beforehand."
The preparation shines on the likes of the first single "South Dakota Wild One." On the track, harmonica wails over acoustic strumming. Simultaneously, Riley's grizzled and gruff delivery simmers above a slow burning beat punctuated by a soulful lead.
"It's a nostalgic song about getting into music, traveling, and running into the special people who were around then, but aren't around now," notes Riley.
Elsewhere, the opener "Good To Go" saunters on airy electric piano towards a heavenly and hummable saxophone solo.
"If 'South Dakota Wild One' was the beginning of traveling and playing music, 'Good To Go' is where we're at now," Riley continues. "We're still out here. We're still good to go. The songs bookend each other."
Then, there's "Dunes." A twang-y riff underscores a fifties-style melody as guitar echoes. "It's about the arc of a love affair—a relationship that went wrong eventually," Dan says. "It explores the symmetry of a relationship and how things come full circle in our life."
The dreamy "Five Year Plan" nods to Harry Nilsson with its dusty bliss, plinking keys, and cinematic orchestration. Album closer "Hero" takes flight on soaring slide guitar and wistful vocal delivery.
"I grew up in a real tight-knit family in the country," Riley goes in. "We all pitched in to take care of my grandmother at the end of her life. We're our own heroes to our families and friends. I needed to write the song to remind myself you can be your own hero. If it helps me, maybe it will help someone else."
In the end, The Deslondes draw on their own familial union to forge a similar connection with listeners.
"To us, this is family," John James leaves off. "It's a part of our lives. When you hear our music, I hope you feel like you're hanging out with us. The band's back together now, and it just feels good."
"Riley, JJ, Dan, and Cam are my brothers," Sam concurs. "We've all been through so much together. I don't think any of us will have that experience with another group of people again in our lives. Sometimes, we drive each other crazy of course, but we're family. I'd take a bullet for any of those geezers."
Caleb Caudle
Caleb Caudle wanted an earthy, funky sound for his new album. He assembled several Grammy-winning musicians to chase it down in the Cash Cabin, a small place with a big history.
"It feels like you're in the shadow of giants," Caudle says.
He emerged from the shadows with Better Hurry Up, his eighth studio album. Its 11 songs showcase Caudle's vivid lyrics and foreboding vocals, as well as the work of an A-list cast of musicians. John Jackson of the Jayhawks produced, and guest vocalists include Courtney Marie Andrews, Elizabeth Cook, Gary Louris, and John Paul White.
A large sound emerged from the little cabin, which Johnny Cash built in 1979 as a private sanctuary near his home outside Nashville. It evolved into a recording studio more than a decade later. Since then the rustic structure has hosted sessions by everyone from Loretta Lynn and Emmylou Harris to Jamey Johnson and Todd Snider, as well as Cash's own work on his acclaimed series of American Recordings. Caudle and Jackson used the space to create a dramatic, compelling record.
"None of us wore headphones," Caudle says. "It was just like we were doing it for the love of music – it didn't feel like we were making a record. It felt like I was playing with an incredible group of musicians and making art."
That group of musicians on Better Hurry Up includes Mickey Raphael on harmonica (Willie Nelson), Dennis Crouch on bass (Elton John, Leon Russell), Fred Eltringham on drums (Willie Nelson, Sheryl Crow), Russ Pahl on pedal steel (Kacey Musgraves, Dan Auerbach), Laur Joamets on guitar (Sturgill Simpson, Drivin' N Cryin'), and, on keyboards, Pat Sansone (Wilco) and Rhett Huffman (American Aquarium). Guest vocalists include Cook, White, Andrews and one of Jackson's fellow Jayhawks, Gary Louris.
Jackson suggested working together after attending a Caudle show in New York. "He casually mentioned that he plays in the Jayhawks," Caudle says. "That was really cool, because I'm a giant fan of theirs." They discussed working at some legendary recording studios in Muscle Shoals and Memphis before agreeing on the Cash Cabin.
They knocked out Better Hurry Up in a few days, another factor that gives the album a loose, natural feel. The sound suits the songs, which Caudle wrote after immersing himself in the vintage roots-funk of Leon Russell, J.J. Cale, Dr. John, the Band, and Little Feat. Crouch's bass work helps establish the new album's deep grooves. "I thought the bass lines were really important," Caudle says. "I wanted them to push the songs along, move them in a different way. Dennis had played with Leon and Elton, and I knew that he knew what I was talking about."
On Better Hurry Up, Caudle worked with a cowriter for the first time in 2019, teaming up with Natalie Hemby of the Highwomen to write "Regular Riot." "I got the title from an episode of 'The Honeymooners' I remember watching as a kid," he said. "It's coming from a place of self-awareness. It's important to know who you are and know what needs to change. The amount of destruction you can leave behind from simple actions just really struck me."
One track has already emerged from Caudle's Cash Cabin sessions: a cover of the Hank Williams classic "Howlin' at the Moon." Rolling Stone Country named it "One of the 10 Best Country and Americana Songs to Hear Now" upon its release in August 2019, saying "backed by harmonica ace Mickey Raphael and outlaw country queen Elizabeth Cook, Caleb Caudle revives an old Hank Williams song from 1951, slowing down the tempo to a funky strut and replacing the original's emphasis on pedal steel guitar with plenty of honking harp."
Better Hurry Up follows Caudle's celebrated 2018 album Crushed Coins. Ann Powers selected that record's "Empty Arms" as one of NPR Music's "Songs We Love," saying "Caleb Caudle's sound encompasses the wide expanse of America, as the best country rock always will." In a review of Crushed Coins for PopMatters, writer Jeff Strowe said "Caudle has recorded an album's worth of songs that continue to grow in the soul upon each repeated listen."
Working at the Cash Cabin in 2019 marked another milestone on Caudle's musical journey. Besides its rich legacy, the studio had the advantage of being close to home for Caudle: He and Lauren Caudle, his wife and manager, moved to Nashville from their native North Carolina in early 2019. Caudle was raised in the countryside outside Winston-Salem, where both of his parents primed tobacco as young people.
"I grew up in the foothills of the Appalachians, specifically the Sauratown Mountains of Stokes County, North Carolina," Caudle says. "I spent a lot of time wandering around in the woods making up songs. Sometimes my mom would find my scribblings on the napkins in the pockets of my jeans when she would do laundry."
His art teacher in high school, Phil Jones, helped fuel Caudle's passion for music: "He allowed me to bring my guitar to class to practice my instrument while the others worked on various pieces of visual art. That class always felt like my sanctuary. It was the most important part of my day. He turned me on to Bob Dylan, whose rawness struck me. He was singing about things that I often thought about but never mentioned. Things like the ways people were struggling and how to react to that, and the ability within ourselves to break cycles."
Caudle moved to Winston-Salem, got a job in a pizza joint, and started playing around town. His father, a Marine veteran and truck driver, set an example for the kind of life Caudle would lead as a working musician. "I think that really shaped the way I felt about hard work and constant travel," Caudle says. "It's always seemed so normal to me."
He gradually expanded his horizons to clubs across the Southeast, all the while learning as much as he could about the music he loved. "I found myself spending hours and hours devouring records and music biographies in my free time," Caudle says. "I wanted to know where all of the music I loved came from. I needed to know how it was all connected. Genre started to matter less and less to me. I only cared about sincerity. I knew it when I heard it."
His musical explorations took him to New Orleans, which enhanced his love for a good groove. "I love good music and good food and I figured they got plenty of both," Caudle says. "The rhythm of that city gets deep into you. I started learning how the groove of the song is often as important as the message. You gotta get their minds thinking and their toes tapping." Unfortunately, living in the Big Easy also encouraged excessive behavior: "I had been drinking for a while at that point, but life on the road really took my weakness and exploited it."
In 2014, Caudle stopped drinking and returned home to North Carolina. There he met Lauren, and their relationship inspired the songs on Caudle's 2016 album Carolina Ghost. "I just remember thinking she saved me," he says. "I couldn't do any of this without her." Lauren joined him on the road not long afterward. "It was the best decision we've ever made," Caudle says. "Being gone for months on end isn't as bad when you're together."
The Cash Cabin sessions started three days after the couple moved to Music City. Caudle's parents drove out from North Carolina as the sessions were winding down, and Lauren brought them to the studio on the last day. "I surprised them by letting them know they were all gonna be singing with me on the title track," Caudle says.
The song's message made it an easy choice to be the album's title track. Caudle calls the song "a call to arms about realizing your purpose and knowing fear of failure doesn't have a place at the table." His loved ones joined him to sing, "The time is running out, so you better hurry up."
"All of us grew up singing in church, so I felt like they would do a great job on the 'Better Hurry Up' chorus," Caudle says. "It felt like a big family singalong. It felt empowering."