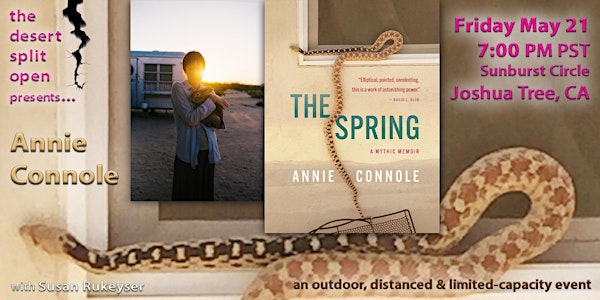 The Desert Split Open Presents… Annie Connole
Location
Sunburst Circle
RSVP for address
Joshua Tree, CA 92252
Annie Connole reads from and discusses her gorgeous new book, The Spring (Chin Music Press, May 2021)
About this event
The Desert Split Open is honored to celebrate the desert launch of local author Annie Connole's gorgeous new book, The Spring (Chin Music Press). Annie will read from and discuss The Spring at an outdoor, physically-distant, and limited-capacity gathering at Sunburst Circle in downtown Joshua Tree, California (street address provided to ticket-holders).
The publisher calls The Spring "a mythic memoir… a book-length lyric essay that examines grief and transformation through the lens of mystical animal appearances following the death of the narrator's partner." The language in this slim volume is as spare and deliberate as poetry. It exists in the liminal space between genres and worlds, peace and grief, where animals appear with messages, and patterns emerge to make sense of great loss. Following the narrator from Montana to the Mojave Desert, the book is illustrated with the author's own photographs, lending another layer of poignancy and also a grounding in realism.
Please reserve your FREE ticket soon—capacity is limited. This event will adhere to all San Bernardino County Covid-19 recommendations for safer outdoor events. The event will also be recorded and posted online for those unable to attend in person.
The Spring debuts on May 11 and is available for preorder at Bookshop.org; Chin Music Press; and Amazon.
●
ADVANCE PRAISE FOR The Spring:
"…Connole is a poet in essayist's clothing; her language ripples and burns. Even more, she has an open heart, and she does not hold back. Elliptical, pointed, unrelenting, this is a work of astonishing power." – David L. Ulin, author of Sidewalking: Coming to Terms with Los Angeles
●
ABOUT THE AUTHOR:
Annie Connole is a writer living in the Mojave Desert. She was born and raised in the rocky highlands of Helena, Montana. Annie received a BA from The New School where she studied art and philosophy and an MFA in Creative Writing from University of California Riverside - Palm Desert. Her work has appeared in literary journals including The Rumpus.
●
The Desert Split Open Presents… is a local and visiting author series based in Joshua Tree, California, and hosted by Susan Rukeyser. Our focus is extraordinary prose, especially work that explores feminist, queer, or otherwise radical themes or forms. In 2020 we debuted an all-virtual format but look forward to transitioning back to live, in-person events without abandoning Covid-19 precautions or the accessibility afforded by online sharing.