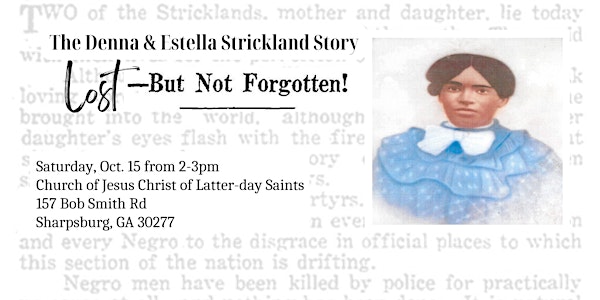 The Denna and Estella Strickland Story: Lost But Not Forgotten
Please join the Strickland family on October 15, 2022, to commemorate the lives and legacies of Denna and Estella Strickland.
When and where
Location
The Church of Jesus Christ of Latter-day Saints 157 Bob Smith Road Sharpsburg, GA 30277
About this event
On October 17, 1932, 52-year-old Denna Strickland, and her daughter, 25-year-old Estella Strickland, were killed by a law enforcement officer in their home in Coweta County, Georgia. Despite the efforts of the family, community, and the Atlanta Daily World, no one was every held accountable for their deaths.
Ninety years later, we come together to honor and remember Denna and Estella Strickland, and to continue the pursuit of truth and justice.
Following the service at 157 Bob Smith Rd., guests are invited to join the family for a viewing of the Strickland gravesites at Mount Calvary Cemetery, 664 Bear Creek Road, Moreland, GA 30259.