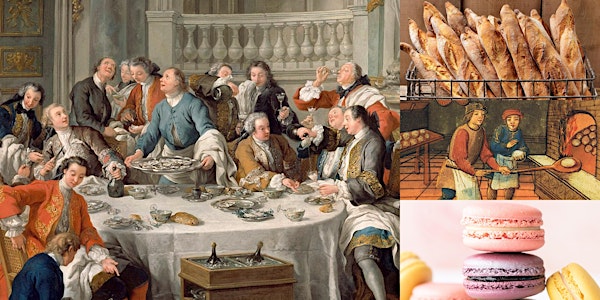 'The Delicious History of French Cuisine' Webinar
Can't make it live? Register and get access to the full replay for one week! New York Adventure Club | www.AdventureClub.com
About this event
From meal courses to structured recipes, most of what we associate with today's international restaurant experience can be traced back to French cooking starting in the 14th century. Where exactly did the love story between the French and their food come from, and what culinary inventions and developments led UNESCO in 2010 to list French gastronomy to the "Representative List of the Intangible Cultural Heritage of Humanity"? It's time to explore one of the most influential cuisines of all time.
Join New York Adventure Club as we uncover the history of French cuisine over the past several hundred years, and how French cooking practices have contributed significantly to Western cuisines.
Led by Edith de Belleville — French licensed tour guide, author, and attorney-at-law — our digital showcase of French gastronomy will include:
A discussion surrounding one of the earliest recipe collections from medieval France, Le Viandier, written by court chef Guillaume Tirel (aka "Taillevent")
Why French cuisine became an important part of the French identity during the reign of Louis XIV (1638-1715)
A look at the experimentation of meals and dining structure in the 18th century, from theatrical experiences orchestrated by a maître d'hotel to service à la française (serving courses of a meal at the same time for all diners)
French chefs that became international icons including Marie-Antoine Carême — who spearheaded movements that shifted French cooking away from its foreign influences and developed France's own style — and Georges Auguste Escoffier, who worked at some of the great late-19th century hotels in Europe and America
How Paris became the land of pastries with treats like St Honoré, Paris-Brest, and macaroons
The history of the French baguette and how it was invented in Paris
The influence of haute cuisine on popular culture throughout the decades
Afterward, we'll have a Q&A session with Edith — any and all questions about French cuisine are welcomed and encouraged!
Can't make it live? Don't worry, you'll have access to the full replay for one week!
See you there, virtually!
*Once registered, you will receive a separate, automated email containing the link to join this webinar
**For the best possible viewing experience, please ensure you're using the latest version of your internet browser — Google Chrome is the most compatible. Exact technical requirements and a webinar user guide will be shared in the automated confirmation email upon registration.
***A full replay will be available after the experience for all registered guests
About Edith
Edith de Belleville is a native Parisian woman. She is a licensed tour guide, lawyer, author and a qualified French teacher for foreigners. She wrote a book about Beautiful Rebels of Paris in French ("Belles et Rebelles" , Éditions du 81) She is also a professor and teaches the Jewish heritage in Paris at Gustave Eiffel University (Marne-la-Vallée) She just published a new book in English about her memoirs in Paris "Parisian Life, adventures in the City of Light." And she spends so much time at Le Louvre and Orsay Museum that it's her second home.
Disclaimer
By attending a New York Adventure Club experience, you accept our terms of service.
Categories: Virtual, Food & Drink