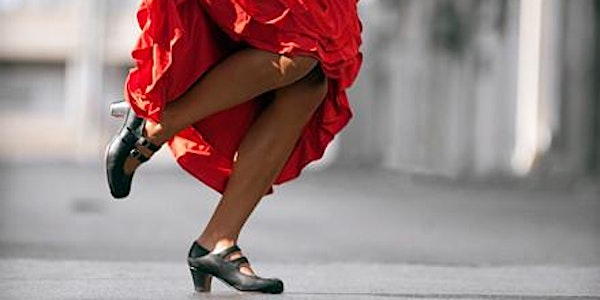 The Deeper Lab Flamenco Intensive presents, "Rhythmic Voice"
Location
Danzhaus Dance Center
1275 Connecticut Street
San Francisco, CA 94107
Description
Rhythmic Voice
Let the Rhythm speak through you!


With Holly Shaw and Clara Rodriguez
Have you ever wished you could have the feeling of "letting go" when you dance flamenco? Join us this February for a workshop carefully designed to help you break through your blocks and get your creative juices pouring into your dancing again!
This three day workshop is devoted to rhythm and creating a dialogue between your own personal rhythms (in life, in body, in communication) and your unique flamenco dance style. Using writing exploration, technique, creative play exercises, discussion and more, you will learn how to utilize your rhythmic expression in an improvised flamenco setting and come away with a greater connection to your own personal expression of flamenco dance. You'll get:
Tools & Techniques for exploring flamenco movement from THE INSIDE OUT

Palmas Tutorial for bulerias

Your own Bulerias Tapado Section, (a largely unaccompanied and improvised form that puts your rhythmic voice front and center) – crafted by you with the help of The Deeper Lab.

Personal Coaching in a supportive atmosphere held by two experienced teachers focused on bringing out your highest potential!

Artistic Style, An In-Depth Exploration: What drives you to do flamenco? What makes you unique?

Rhythmic Fluidity - learn the secrets of how to be the music

Long-Lasting Shifts in Awareness, Performance Abilities, and Artistry
February 5th-7th, 2016
Friday 7:00pm – 10pm (registration begins 6:30pm)
FRIDAY HAS MOVED TO STUDIO AZUL IN OAKLAND (3586 66TH AVE., OAKLAND, 94605)
Sat/Sun 9:30am-4pm (arrival begins 9:00am)
SATURDAY AND SUNDAY IS STILL AT DANZHAUS IN SAN FRANCISCO
Sign up early! Due to the increasing popularity of The Deeper Lab workshops, we expect this intensive to fill up in advance.
For experienced beginners to advanced flamenco dancers
---
Testimonials
What previous Deeper Lab participants are saying:

"Where before I always felt like I was this empty vessel wanting to receive information from everyone around me, now I'm realizing that I have that knowledge within myself to start creating." - Kelly Kovanis

"I had one of the best days of my life. I danced with feeling to the guitarist...not worrying about choreography, and not having to match everyone else...and...I really was dancing to a story...my story...and in front of people!! You're amazing at how you pull people through 'doing stuff'...I'm not sure how to say it! and it's beautiful how you do it." – Vicki Trimbach

"Thank you for lighting my fire again! It was wonderful meeting all of you and being inspired! I really look forward to the next one!" – Sally Saman

"Holly creates this atmosphere that feels comfortable to play, where there is just very little judgement and it feels so supportive." – Rebecca Siegel
FAQs
Questions? Check out the FAQ page on The Deeper Lab website
Where can I contact the organizer with any questions?
Contact us at (510) 393-9117 with any questions you might have or email us at deeperlabflamencointensive@gmail.com.