About this Event

PLEASE BOOK YOUR SPACES AT WORKSHOPS BY USING THE TICKETS LINK
The Decorative Living Fair, held only once a year, is known for its inspiring displays by around seventy professional exhibitors selling beautiful English and continental decorative antiques, authentic brocante (from the markets of Belgium & France), fashion, jewellery and plants.
The perfect day out - a fabulous location, a café serving stylish food and refreshments throughout the day, beautiful gardens to explore and enjoy, weatherproof shopping and easy parking
In between browsing & shopping, take time to enjoy the delicious offerings at the Blackbird Café, run by Hattons of Tunbridge Wells, who will be providing late breakfasts, light lunches and superb cakes throughout the day, supported by two Coffee Real outlets
The fair has a reputation for being a great place to find key pieces for interiors, which is probably why the early bird entry tickets are so popular with the public, interior designers and dealers alike. Early Bird Tickets will allow you entry to this years event at 9:30am on Friday 17th May and free re-entry on Saturday 18th May. Tickets are not transferrable.
Early Bird Ticket * 09.30 -16.00 £14.00 * Early Bird ticket holders may return to the fair on Saturday 18th (not transferable).
Standard Ticket 11.30 -16.00 £7.50
Saturday 18 May 2019 10.00 -16.00 £7.50
Children Under 18 are free.
We are hosting some creative workshops throughout both days, please scroll down for more information and use the Tickets Link to book your places at these workshops.
We regret that for insurance reasons, no dogs are allowed into the fair , apart from guide and assistance dogs. Please note that not all exhibitors take cards
Visit our website www.decorativelivingfair.co.uk for images of previous fairs, and follow us on Instagram and Facebook to keep in touch.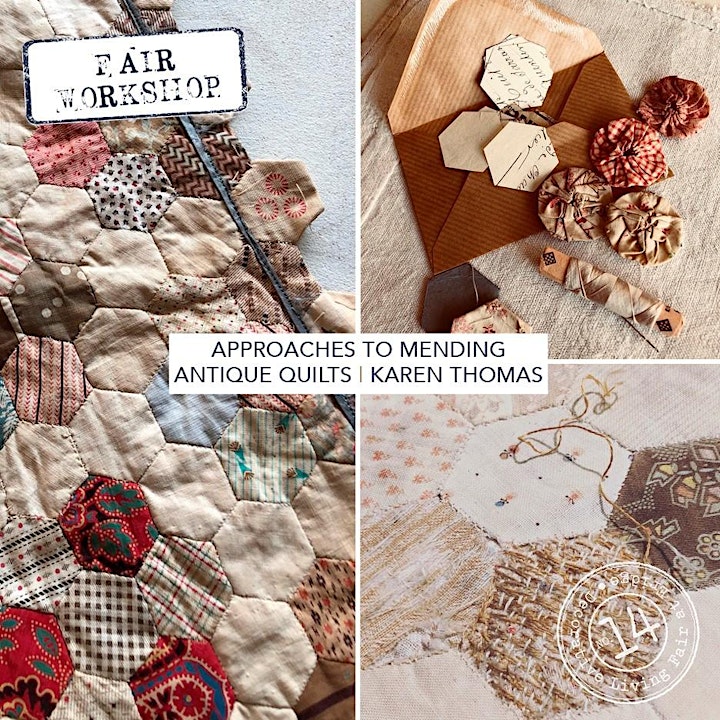 WORKSHOPS - Please book tickets via the Tickets link
Why not take a little time out from shopping and visit the tranquil loveliness of the Music Room to try something creative for an hour and a half? Working with one of several talented teachers, you could try embroidery, appliqué, learn how to mend a quilt or old textiles, a surprised project or make a start on modern calligraphy. An absorbing hour or so with like-minded people will leave you feeling refreshed and inspired. (You must purchase a valid fair entry ticket in order to take part in a workshop)
.............................................................................................................................
FRIDAY 11.30AM - APPROACHES TO MENDING ANTIQUE QUILTS £25.00
So, you have found a beautiful antique quilt, but it has a little wear and tear? Karen Thomas (@ostrichandsilkworm) will show you different ways to tackle repairs to quilts, whether it is replacing a hexagon, or strengthening and repairing worn areas. You are welcome to bring a project along for advice, otherwise Karen will have samples for you to work on. A really useful and enjoyable workshop, which will be held in the beautiful Music Room in the house. All materials and kit provided.
FRIDAY 11.30AM - THE COSY CLUB ON TOUR £25.00
Sample some of the renowned Cozy Club magic with Chris Myers, author of Scandi Christmas and Seasonal Scandi Crafts. As at The Cozy Club gatherings, the project is a surprise, but as anyone who attended her recent workshop at The Country Living Fair will know, they are always a delight. Stop by for some slow stitching and creativity and take home something in a hand-painted frame to keep as a souvenir of the day.
FRIDAY 1.30PM - STITCH A DAISY APPLIQUE NEEDLECASE £25
A taster appliqué and embroidery workshop with Penny Edwards. Make a pretty needle case using hand turned appliqué and hand embroidery, and stamps. All materials supplied using fine antique linen.
SATURDAY 11.30AM - AN INTRODUCTION TO MODERN CALIGRAPHY £30
A taster workshop with Lucy Berridge in which you will surprise yourself with what you achieve in under 2 hours due to Lucy's organised and clear tuition.
SATURDAY 2PM - AN INTRODUCTION TO PAINTING ON LINEN £25
Using a specially printed sampler, which you can stitch into afterwards, you will just have a go at painting on linen - flowers, windows, doorways….to gain confidence and perhaps open a new window on creative possibilities. With Caroline Zoob. All kit provided, although you may want to throw an apron in your handbag.