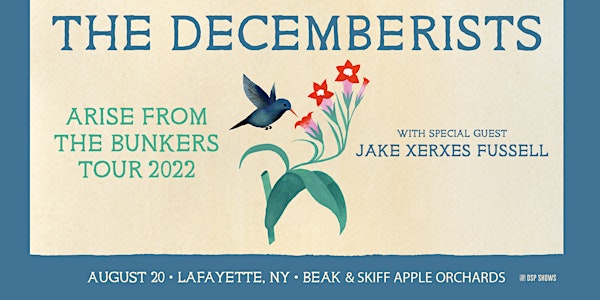 The Decemberists - Arise From The Bunkers! 2022 Tour
ALL AGES
Presented by DSP Shows
The Decemberists Arise From The Bunkers! 2022 Tour with special guest Jake Xerxes Fussell at Beak & Skiff Apple Orchards in LaFayette, NY
When and where
Location
Beak & Skiff Apple Orchards 2708 Lords Hill Road (Rt. 80) Lafayette, NY 13084
Performers
Headliners
More Performers
About this event
Click HERE for venue info.
The Decemberists have partnered with PLUS1 so that $1 per ticket goes to supporting organizations that are working to ensure access to reproductive rights for all.
Entry requirements are subject to change. By purchasing tickets to this event you agree to abide by entry requirements in effect at the time of the event. If there are any changes to entry requirements, ticket holders will be notified by email and updates will be posted at dspshows.com.
Current Protocols:
Proof of Vaccination: Not required
Proof of Negative COVID Test: Not required
Face Coverings: Encouraged, but not required
For over 20 years The Decemberists have been one of the most original, daring, and thrilling American rock bands. Founded in the year 2000 when singer, songwriter, and guitarist Colin Meloy moved from Montana to Portland, Oregon and met bassist Nate Query, keyboardist Jenny Conlee, and guitarist Chris Funk, The Decemberists' distinctive brand of hyperliterate folk-rock set them apart from the start with the release of their debut EP 5 Songs in 2001. After making their full-length debut with Castaways and Cutouts in 2002, the band signed with Kill Rock Stars for the release of the acclaimed albums Her Majesty the Decemberists (2003) and Picaresque (2005), which was produced by Chris Walla. The 2004 EP The Tain – an 18-minute single-track epic – made the band's grand creative ambitions clear.
Around this time the band's permanent line-up fell into place with the arrival of drummer John Moen, and they made the unexpected leap to Capitol Records for their first major label album in 2006. Fans' concerns of whether the band would alter their trademark sound quickly vanished when they delivered their most ambitious and audacious record to date in The Crane Wife, a song cycle produced by Walla and Tucker Martine (who would become a longtime creative partner) that added elements of '70s prog, hard rock and even quasi-disco to their palette. The album was met by wide acclaim from The New York Times, Rolling Stone, SPIN, Stereogum, and was named Best New Music by Pitchfork.
Three years later, The Hazards of Love – a full-length concept album based on Meloy's idea for a stage musical - was a Top 20 hit. In 2011, they topped themselves yet again with their first #1 album, The King Is Dead, which featured the GRAMMY-nominated song "Down By The Water." After their 2015 album What A Terrible World, What A Beautiful World, which included the #1 AAA radio hit "Make You Better," The Decemberists changed up their sound and explored new approaches to making music on their eighth studio album I'll Be Your Girl (2018) with producer John Congleton. NPR Music wrote "Every band needs to refresh and reconsider its sound sooner or later, no matter how sharp it's gotten over the course of a long career — even The Decemberists, a band whose records have always come bursting with verve... I'll Be Your Girl captures a collaborative spirit that keeps the band sounding vibrant and alive."
Over the past 20 years The Decemberists have toured the world, performed at countless major festivals, and even founded Travelers' Rest, a festival of their own curation in Missoula, Montana. The band has appeared on The Simpsons, collaborated with Hamilton's Lin-Manuel Miranda, and released their own crowd-funded board game Illimat.
Singer, guitarist, and folk music interpreter Jake Xerxes Fussell has distinguished himself as one of his generation's preeminent interpreters of traditional (and not so traditional) "folk" songs, a practice which he approaches with a refreshingly unfussy lack of nostalgia. By recontextualizing ancient vernacular songs and sources of the American South, he allows them to breathe and speak for themselves and for himself; he alternately inhabits them and allows them to inhabit him. In all his work, Fussell humanizes his material with his own curatorial and interpretive gifts, unmooring stories and melodies from their specific eras and origins and setting them adrift in our own waterways.
Fussell's new album Good and Green Again was released Jan 21, 2022 via Paradise of Bachelors. Produced by James Elkington, the record navigates fresh sonic and compositional landscapes and is, perhaps, his most conceptually focused to-date. Fussell and Elkington enlisted a group of formidable players hailing from Durham, North Carolina (where Fussell lives) and elsewhere, including regular bandmembers Casey Toll on upright bass, Libby Rodenbough on strings, and Nathan Golub on pedal steel. They were joined by welcome newcomers Joe Westerlund (Megafaun, Califone) on drums, Joseph Decosimo on fiddle, Anna Jacobson on brass, and Bonnie "Prince" Billy, who contributes additional vocals.
"...Fussell is the rare contemporary to approach folk in its pure form, shunning self-penned compositions about bummer relationships to concentrate on material handed down from bygone, hardened times." - The New Yorker
"Jake Xerxes Fussell who is, to me, maybe the leading interpreter of American folk music right now…" - Ann Powers (NPR All Songs Considered)
"For (Fussell) a song is no older than the last time it was sung. His fourth album,
Good And Green Again is his most thoughtful, his most eloquent, and his most poignant explication of this idea." - Uncut (Feb '22 Album of the Month)
"Fussell, who has won admirers including Will Oldham, Wilco and Bill Callahan, is one of the great magpies of American song, collecting forgotten, tarnished gems with a folklorist's zeal... his renditions aren't so much cover versions as composites..." - The Guardian