Description
You Are Invited To The Debate Workshop/Remix
You are welcome to attend this highly interactive session to learn how to design, run and participate in parliamentary debate through engaging theater-based, spoken word, and Battle Rap/Hip hop-focused activities. Come ready to have fun while fostering invaluable skills to critically engage in a broad range of issues. The morning guest facilitators will lead Battle Rap/Hip-hop and Theater-Based sessions that welcome participants to engage in bold and artistic activities. The creative afternoon Parliamentary mock debates will allow you to practice mapping your arguments, refuting claims, asking critical questions, and presenting cited evidence.
We are excited to have awesome guest facilitators/presenters Nicole "Nikki Knowledge" Hudnell, Amanda Abbott-Lopez, Johnny Chamness, Chiara D. Fuller and more on our leadership team!
(No debate experience required.)
FREE BREAKFAST AND LUNCH PROVIDED!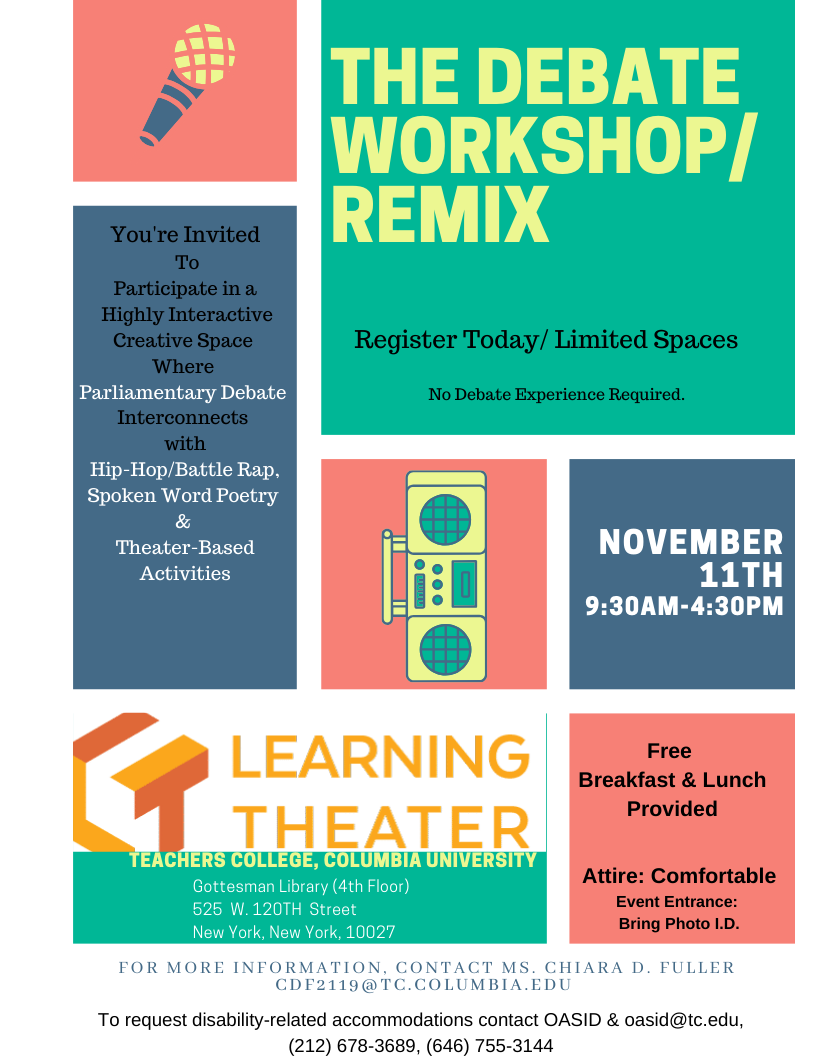 ---
FREE BREAKFAST AND LUNCH PROVIDED!
RSVP Deadline: November 8th, 2019
Registration (Bring a photo I.D.) : 9:00 am - 10:00 am
Event Starting Time: 10:00 am
To request disability-related accommodations contact OASID & oasid@tc.edu, (212) 678-3689, (646) 755-3144
FAQs
How can I contact the organizer with any questions?
For more information, please contact Ms. Chiara D. Fuller at cdf2119@tc.columbia.edu .
Is it ok if the name on my ticket or registration doesn't match the person who attends?
Please match the name on your ticket/registration with the person who attends the event.
All participants are required to bring a photo I.D. ( Identification) for the entrance public safety desk. If you have further questions, please contact Chiara D. Fuller ( cdf2119@tc.columbia.edu).