Description
The DC Weirdo Show Presents:

TEN YEARS OF WEIRD!

Our show got born ten years ago at the legendary Palace of Wonders and now we've hit our growth spurt, those hormones are raging and we're growing hair in strange places...
Come be part of SIDESHOW HISTORY IN DC, enjoy an OLD-SCHOOL CARNY NIGHT OF DANGER and help us CELEBRATE this exciting milestone for the DC Weirdo Show!
Featuring ORIGINAL WEIRDOS from our *very first* Weirdo Shows:
EATING FIRE and ESCAPING an HOUDINI STRAITJACKET: it's DC's Own Sideshow Girl, Mab Just Mab!

BITING THE HEAD OFF... SOMETHING: it's dangerclown Jim Dandy!

LIFTING WAY TOO MUCH STUFF with TENDER PARTS OF HIS BODY: it's the painproof stepdaddy of weird, Charlie Artful!

Putting the SHOW in Sideshow, it's oddity historian, performer and raconteur -James Taylor of SHOCKED AND AMAZED!

(Ripley's) Believe it or Not, we got Alex Doll and her spectacle of STRANGE!

...and that carny talker himself, the original Weirdo - PROFESSOR SPROCKET and his AMAZING HEADLESS WOMAN!
PLUS: Witness the Queen of the Weirdo Show, DR TORCHER, perform stunts in our ELECTRIC CHAIR! Will she SURVIVE TO DO THE SHOW AGAIN? LET'S FLIP THE SWITCH TOGETHER and FIND OUT!
AND OH YEAH - ENJOY FREE CAKE BECAUSE IT'S OUR BIRTHDAY!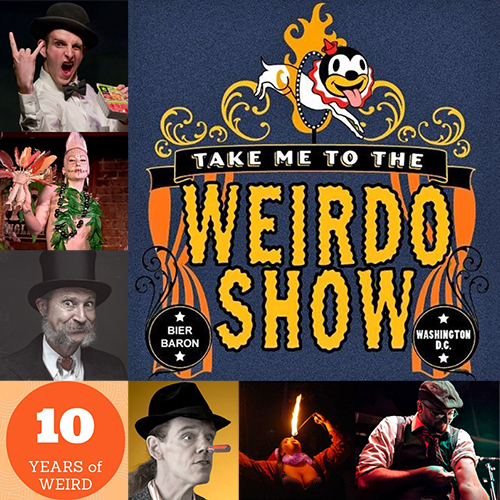 Doors at 8; our show starts promptly at 9pm.
Performers stick around after the show for photos and fun!
---
Come witness the misfit variety show that survives against all odds...
Since 2006, DC's monthly cult favorite for freaks, geeks and exposed buttcheeks!

www.dcweirdoshow.com
Date and Time
Location
The Bier Baron Tavern
1523 22nd Street Northwest
Dupont Circle - Red Line Metro
Washington, DC 20037