Multiple Dates
The Database Reset: Marketing Implementation Workshop [Real Estate Agents]
Event Information
Refund policy
Refunds up to 30 days before event
Eventbrite's fee is nonrefundable.
"I guarantee you'll put $5,000 of new business in your pipeline from this workshop within 30 days or you'll receive a ticket refund."
About this event
"Thanks again for the workshop and reconnect letter. I received 3 come list me's! ...so far since yesterday. Another was a prospect from 2014-sitting in my pipeline. Thought you may want to share with the other folks!" - Celeste Z. (Century 21 NW)
"We got one come list me right away! Thank you!" - Jeff C. (Keller Williams Black Hills)
"[I] got a call this morning! They said '[We] got your email. Can you come you come over? I'm looking to sell.'" - Maurice R. (Arris Realty)
"We received 4 inquiries from our seller website over the weekend that was likely due to the email we sent out. Thanks Frank!" - Matt D (Keller Williams Realty)
"Frank so far 5 of my past clients and SOI have clicked through to find out their home's value so we're off to a good start!" - Michael F. (Carolina One Real Estate)
"I've been humbled. I had this guy in my database for 2 years and he's getting my monthly snail mail....but get this he reaches out to me from my Facebook Messenger ad saying 'I want to list my house". It was a $500,000 listing and that's luxury in Toledo!" - Jon. M. (Toledo, OH).
100% Money Back Guarantee - You'll put at least $5,000 of new business in your pipeline from this workshop for a 10x ROI within 30 days or you'll get your ticket fee back. It's that simple - email allison@getvyral.com for your complete refund. No documentation needed. We'll take you at your word.
(Does not include refund of postcard mailing cost or Facebook ad spend)
*In addition to the ticket fee, we recommend a $5 a day Facebook budget for 30 days and postcards are $.40-60 each depending on your mailing list, should you choose to implement those two pillars (optional).
* This is a "virtual" workshop limited to 12 people over Zoom.
Are you a real estate agent looking to re-connect with your neglected database?
Let's work together on Zoom to just get it done.
Now is the time to "shift" your marketing focus to your sphere, past clients, nurtures, and existing relationships by staying in better touch with timely guidance and advice.
You may have delegated or ignored this in the past. No longer.
It's time for you to step up and take personal ownership of your lead generation and conversion - no one on your team is as talented as you at this.
Nothing becomes more critical to success in a shifted market than finding motivated buyers and sellers and closing them to an appointment (now virtually), even if that appointment only earns their promise to hire you when they are finally able to buy or sell.
"It it's to be, it's up to me and I need leads coming straight to me", they say.
It's starts with a clean and organized email list combined with helpful, authentic messages for immediate response that deliver a clear return on investment.
I'd like to invite you to a 3-hour implementation workshop where you'll actually get all this done. Yes, that's right - we'll get it done.
We will implement during the workshop. That's what makes this different.
This is a true a workshop - not a seminar, conference, mastermind, or training.
There are a lot of methods competing for your dollars to find new business (cold calls, PPC, geo-farming, referrals, auto-dialers, AI, Instagram, open houses, high-end video, etc).
Anything that's not tried and true must be cut. But good news...
Your lowest-cost business is already sitting in your existing database - untapped. I'll help unlock that for you. Let's get helpful, relevant messages to them now.
You won't risk a penny with us to do it either.
I guarantee you'll put $5,000 of new business in your pipeline from this workshop within 30 days or you'll receive a complete refund of your ticket.
(Does not include refund of postcard mailing cost or Facebook ad spend)
I've written a simple marketing plan with 3 action steps that's exactly what we need to do so people in your database start calling you to talk business. This will fill your pipeline.
We're going to host this workshop on Zoom given the state the pandemic.
Honestly, I think it's more effective. You're on your computer, too, and we can get the work done together at the same time.
It's limited to 12 people. That's it. I will answer your questions and interact with you like a real, in-person workshop.
My teaching assistant(s) will be in attendance to get the work done with you during the workshop together.
I have two goals by the time we're done with the 3-hour workshop:
First, you'll leave with a complete "36 touch" marketing plan to use video and social media at the highest level that generates continued low-cost business for you from repeat clients, referrals, and improved lead conversion.
You need clear and measurable ROI. I can deliver that. We'll get the messaging just right, too, for what's going on now with the pandemic so you're relevant.
Second, you'll have a Facebook ad live targeting your current database generating inbound messages and an email sent to your newly clean and de-duplicated email list with responses you can work for conversations that lead to opportunity.
In a shifted market, personal branding alone without a lead generating message won't get you the motivated leads you need. We will combine both for you.
We will get all this done in 3 hours.
My expert staff will call you for a preparation call before the workshop. We'll get what we need in advance (photo of you, contact information, etc) so we're all prepared to get the work done when class starts.
Here's the agenda:
#1. Export your current email list(s) so it's all in once place
You'll export all your contacts from your CRM(s), addresses book, mobile phone, email provider, and more. We'll de-duplicate them, clean them up, and load them into an email marketing program to send them all an email message you approve that's empathetic and warm. We'll also upload your list to Facebook so we can advertise to them for $5 a day to start conversations with very effective Messenger ads.
GOAL: We will have your cleaned-up database ready to email and loaded into Facebook as a "custom audience" ready for advertising.
#2. Email them a reconnect message w/ a FB retargeting ad
You'll personalize a re-connect email template I wrote that works very well in class. It's timely for right now. We'll load it up into the email marketing program, send you a proof, and we press send in class! The email comes from you with your branding. We'll share the responses coming in during class together. It's very exciting. We'll also post it as a Facebook advertisement with your photo optimized for Messages so people start conversations with you in their news feed. You'll get responses right away. Homeowners and buyers have questions - you will be there to answer them.
GOAL: We will send the reconnect email to your database and run it on Facebook for leads via Messenger.
#3. Start a 36 touch nurture plan with video, direct mail and social media
You'll learn now how to shoot a simple Q&A video from your webcam on a topic people want. We'll script your first video based on what your ideal clients are searching for on Google. The #1 search term is "Are home prices dropping?" You'll also get tips on how to sound and look great. You'll understand the strategy to start sending out 2 videos a month to your database to stay in touch, knowing what to say for your first video. You'll also get a personalized sales message to go on the back of your video postcard so you can touch your database once a month with direct mail, too (very powerful, more than ever). You'll answer "Why would they want to contact you in this market?" and "What would they get if they did?".
Goal: You'll have your first video script done with a sales message written to go on your postcard and website.
You'll leave the workshop with a helpful and relevant marketing plan to stay in better touch with the latest technology - and best of all - immediate, legitimate responses generated during the workshop to put at least $5,000 of new business in your pipeline. People need your help. We'll get it done. This is a workshop.
100% Money Back Guarantee - You'll put at least $5,000 of new business in your pipeline from this workshop for a 10x ROI within 30 days or you'll get your ticket fee back. It's that simple - email allison@getvyral.com for your refund. No questions asked. No documentation needed. We'll take you at your word. Does not include refund for Facebook ad spend or postcard mailing costs.
Register now. We'll call you within 1 business day for an intake call so we're prepared for the workshop. We'll get what we need from you so everything is smooth when it's time to get to work.
If you like your initial results (and the experience working with us), and you wish to continue with us as a full Vyral Marketing client, you can apply the $500 ticket fee as a credit to your build fee within 90 days of the workshop.
You can learn more about us at www.getvyral.com. You can see examples, how it works, pricing, client interviews, FAQ's and more.
Tickets are non-refundable after 30 days before the workshop. You can transfer them, however, to any future workshop we hold within 1 year of purchase.
See you in class! Let's do this.
Frank Klesitz, CEO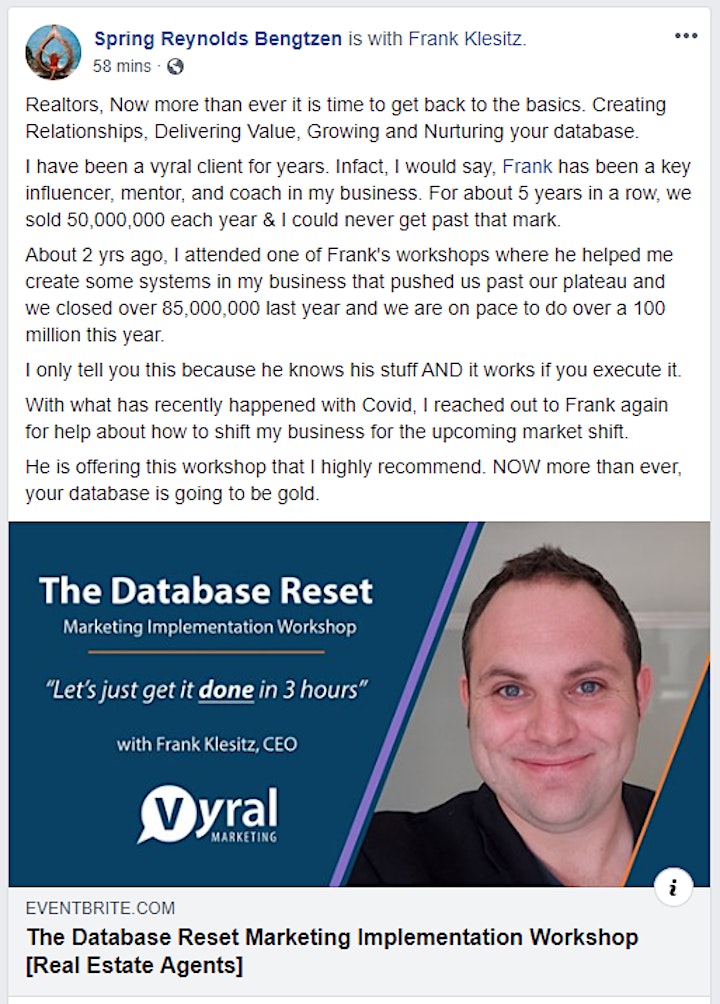 Here's an example market update video shot from a webcam:
Here's the process of shooting a video from your webcam (should be quick and simple). Chris Watters also generated 24 listing appointments and took 13 signed listings from his last message. Listen to his results later in the video.
Here'e what people are saying about working with us...
"I can kick myself for waiting to hire Vyral. I have sat on the sidelines, reading Franks emails for a few years. I finally hired Vyral and they have been amazing. We worked our database but not like what Frank teaches. We have referrals coming in that would have never been received in the past. The client experience is also amazing. If you want to transform your business, hire Vyral today! Truly the Ritz-Carlton of Marketing!"
"Frank and his team do an excellent job helping real estate agents take their business to the next level. I had friends who used his database service for years and I knew they did great work. I started using Vyral for the recruiting class and building my block for teaching. Using their techniques and tips we have saved a lot of time and money in our recruiting efforts for our real estate team. We had 22 people at our last career mixer and before that our largest attendance was 10 people. After seeing that success, we expanded the services we hired them for and they handle our database marketing as well. If you want to grow your business then don't think twice about hiring the Vyral team to help you get there faster. The investment is very reasonable and you'll get paid in dividends."
"I have been really happy working with Vyral Marketing over the last several years. They do a great job with my videos, make it very easy and help keep me accountable to continue making content. Frank also puts together some great marketing ideas you can he pulls together from top producers across the country."
"Takes the hassle out of consistently producing content. Have been happy with their services and attentiveness throughout the process. They have great systems and great people to help with staying relevant to your past clients, friends, and family."
"I have had a great experience with Vyral Marketing. They have literally done everything for me. From creating a website to making sure every link works to getting my YouTube page up and running and helping me create amazing videos for my database! Highly recommend them if you are looking for leverage in your marketing."
"I am a real estate agent in Houston and I credit over half of my success to Vyral Marketing. Frank and the team are all about giving MASSIVE relevant value to clients and this inspired me to have the same foundation for my business as well. I recently went through their Business Mastermind project which guided me to jump start my own coaching and consulting program. I did not have to figure anything out or build from scratch as the plan was laid out clearly with small actionable items to execute upon. I would definitely use Vyral for all of my business needs. Thank you Frank and the team at Vyral. You guys are making a real contribution to us, our families, and our community."
"Vyral is a great company and I have been with them for my video educational marketing since their beginnings. Frank & Scott do a great job helping me stay in front of my 4800 past clients and database of over 30,000! Cant recommend a more efficient method of delivery and way to touch on our folks."
"I highly recommend Vyral Marketing! They have been an amazing company to work with. I have used them for years, and been very very happy. Their customer service is GREAT.. And Bottom line IT WORKS! Frank Is A Creative Genius!"
"What can i say? Vyral Delivers results! They sent out a simple email and much to my surprise, I was able to secure three families to help with their real estate needs in one day. hours after the email went out. Can not wait to see where this goes! Caitie, Taylor, Shamby, Frank and everyone at Vyral, THANKS!!!!"
"If you're looking for the highest return on investment for your marketing dollar, Vyral is the way to go. They have a proven system that's easy to follow and implement with amazing support along the way. Frank and his Vyral team have really mastered the best approach to being the preeminent professional in your database. Frank has always been very kind with his time and coaching, always willing to share his knowledge. I highly recommend!"
Location
Refund policy
Refunds up to 30 days before event
Eventbrite's fee is nonrefundable.
Organizer of The Database Reset: Marketing Implementation Workshop [Real Estate Agents]
We'll help you stay in better touch with your database. We interview you on an HD webcam to educate your customer database with video to grow sales - we do all the work for you. We edit your videos, write your blog posts, send your email, update your social media and call the people who watch your videos. It takes 30 minutes of your time a month.