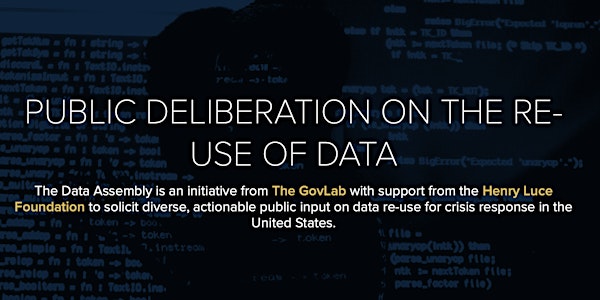 The Data Assembly Expert Panel and Live Virtual Town Hall
An Expert Panel and Live Virtual Town Hall sharing lessons learned and soliciting input on responsible re-use of data for COVID-19 in NYC
About this event

The Data Assembly
In a live virtual town hall, The GovLab at New York University Tandon School of Engineering and an expert panel will introduce a new framework to support the responsible re-use of data to fight COVID-19 in New York City and beyond.
The COVID-19 pandemic is an economic, political, cultural and, above all else, human tragedy without parallel in our recent history. The path out of this crisis remains unclear; the world is gripped by a profound sense of uncertainty about what comes next. A variety of solutions—vaccines, therapeutics, more testing—have been tested, but the truth is there will be no silver bullet. We will need an arsenal, one that features the effective and responsible use and re-use of data.
Over several months, The GovLab, with support from the Henry Luce Foundation, has hosted deliberations with New York residents, institutional data holders, policymakers, and civic rights groups to understand how they perceive the opportunities and risks involved in the data-driven response to COVID-19.
During this 90-minute virtual town hall on Zoom, The GovLab will introduce findings from this effort, facilitate a discussion among key stakeholders regarding the implications of these findings, and solicit public input on a new tool aimed at supporting responsible re-use of data to fight the pandemic.
Panel
Stefaan Verhulst, Co-Founder and Chief Research and Development Officer, The GovLab [Moderator]
Gale Brewer, Manhattan Borough President
Nick E. Smith, New York City First Deputy Public Advocate
Zachary Feder, Open Data Program Manager, New York City Mayor's Office of Data Analytics
Paul Ko, Head of LinkedIn Economic Graph Analytics, LinkedIn
Jaclyn Sawyer, Director, Data Systems, Breaking Ground
Diana Plunkett, Manager, Strategic Initiatives at Brooklyn Public Library
Kathleen Riegelhaupt, Associate Director, Digital Policy, New York Public Library
Mariko Silver, President and CEO, Henry Luce Foundation
The event is open to the public, but registration is required.