About this Event
The Dangits formed in January of 2009 at Fuzzy's Taco Shop in Ft. Worth, Texas over a few fish tacos and several beers. Mike Noyes and Branden Smith were part of the vibrant Dallas music scene in the 90's; Mike in (REO) SPEEDEALER and Branden in THE SOUP. After years of extensive touring, both took some time off of music and met up later thru their mutual admiration for european motorcycles as members of the local 59 Club. Playing live, writing and recording is the band's chief objectives. Within a year of formation In 2010, they began recording their first batch of songs for the full length CD release "Greatest Hits Vol. I". With that release and their growing local fan base, The Dangits were bestowed the Best New Artist Award from The Ft. Worth Weekly in 2010. Over the next few years and a few members later The Dangits were able to cultivate a strong local following along with a 7" record release in the fall of 2012. With a solid lineup that now includes on drums Russ Genders who joined in early 2012 and on bass Rob Navarrete in August of 2014 they released their long awaited 2nd full length album on 12" vinyl this time titled "Come Alive". The Dangits play local bills and have also played along side great touring acts such as THE SUPERSUCKERS, OFF WITH THEIR HEADS, ZEKE, AGAINST THE GRAIN, THE DWARVES, DIXIE WITCH, IN THE WHALE, ELECTRIC FRANKENSTEIN, THE HOOKERS, GUTTERMOUTH and THE QUEERS to name a few but to them, a show is a show and bring the same intensity for the music, a blistering live performance and a sense of fun knowing that this is all just for shits.
The Go-Go Rillas (Facebook / Instagram / Twitter)
No bananas are safe! The GO-GO Rillas have escaped the confines of the zoo and aimed to throw a Banana Party! Where's the Banana Party? Wherever these apes are! During their time locked away at the zoo, these primates honed their surf and garage rock chops and now Bingo, Bango, Bongo and Fred are on the loose; forever on the run from the evil zoo keeper! Grab a banana and let's GO-GO!
The Denton Tarantinos (Facebook)
The Denton Tarantinos: premier surf rockists, dub mongering reverb batmen, nostalgia trigger-masters of the classic hook. There's nothing quite like us.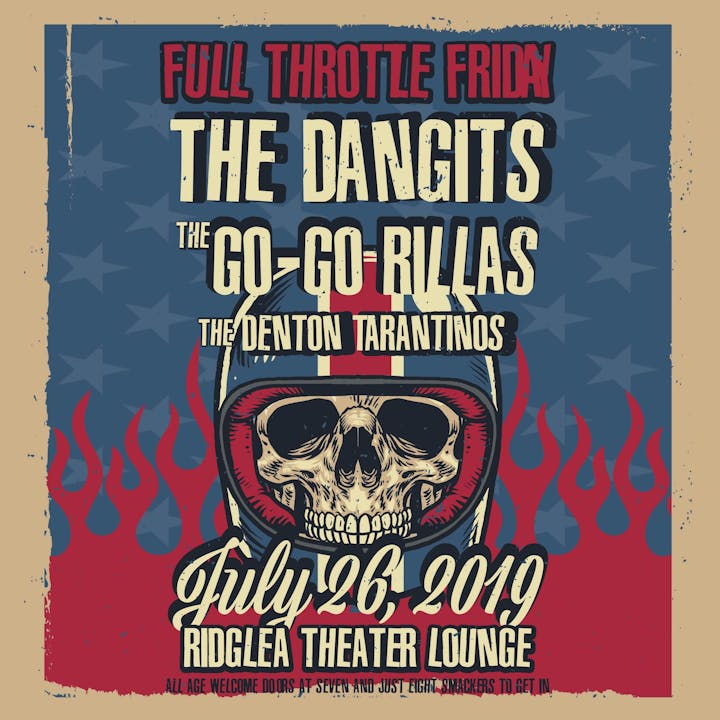 Performers
Date and Time
Location
Refund Policy