About this Event
The Dandy Warhols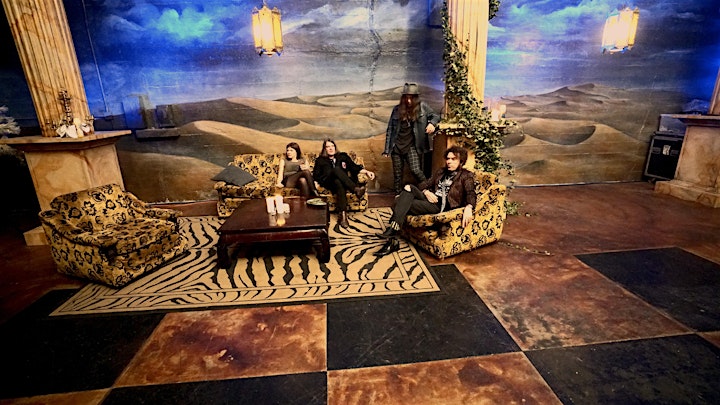 In 1994 The Dandy Warhols were formed in Portland, Oregon, in the shadow of the twilight years of the grunge scene. With Brit-pop reigning supreme on the other side of the pond, and influences ranging from 1960s garage rock to 80s/90s shoegaze, The Dandy Warhols began a career that would see them release nine studio albums, two compilation albums and 27 singles over a 25 year period.
"Holy cow, 25 years?!" says keyboardist Zia McCabe "I guess it has to have been that long since it feels like I've been doing this my entire life. Oh right, I have been doing this my entire adult life, ha. Time flies don't it? So much history, so much music, so many memories and so much of it haaaazy, wow, just wow."
Since their inception, The Dandy Warhols have sailed through, and past, shifting musical climates by keeping their art unfiltered and presenting thoughts un-mired by censorship. The band - Courtney Taylor-Taylor (vocals, guitar), McCabe (keyboards), Peter Holmström (guitar), and Brent DeBoer (drums) - have gone on world tours, had hit singles, and even taken to the stage during the Greek riots. They've weathered shifts from vinyl and tape to CD, CD to digital, and back to vinyl again. They moved from paper fliers to social media, toiled with major labels, and throughout it all have remained a pure, synergistic unit.
The band's live presence – frequently filled with nudity early in their career – was enough that, at their first gig in 1994, they were approached by the independent record label Tim/Kerr who offered to pay for the recording of an album. The result was their debut, 1995's Dandys Rule OK, an album that impressed major label Capitol Records enough to sign the band.
The band's difficult second album, …The Dandy Warhols Come Down, was released in 1997 and spawned three Top 40 singles including 'Not If You Were the Last Junkie on Earth' (more commonly known as Heroin is so Passé). But it was with the release of 2000's Thirteen Tales From Urban Bohemia that the band hit the public consciousness with full force. The mega hit 'Bohemian Like You' landed in the cultural sphere like a freight train and has yet to leave it.
Touring the world , the band built on their popularity to gain international acclaim. Their performance at the Glastonbury Festival in 2000 so inspired David Bowie that he not only curated them to perform at Meltdown 2002 but came out to duet with them on The Velvet Underground's 'White Light / White Heat' as part of the encore on July 29th.
Not content to sit back on their laurels, the band released Welcome to the Monkey House in 2003 featuring their next zeitgeist catching single 'We Used To Be Friends' which became the theme song for the cult TV series Veronica Mars.
Throughout the 2000s the band continued to release albums - Odditorium or Warlords of Mars (2005), ...Earth to the Dandy Warhols... (2008), The Dandy Warhols Are Sound (2009) This Machine (2012) and, most recently Distortland (2016).
2019 sees The Dandy Warhols kick off the celebrations for their 25th Anniversary by touring Europe. "The weirdest thing about it being our 25th anniversary is it doesn't feel like 25 years. Feels like about six. Or five," muses Taylor-Taylor.
McCabe can't help but wonder about the complications of building a set list around an entire career as opposed to an individual album; "Oh man, how are we going to fit something from each album into our set? Don't worry we'll figure it out and it will be legendary. Get ready for a massive concussion of rock and roll that's been a quarter of a century in the making."
Never a band to passively let life happen, The Dandy Warhols will be using 2019 and their 25th Anniversary as a time to not only celebrate the past, but also look into their future. They will begin the next phase of their trajectory with a continuation of their unfiltered creative streak - the release of their 10th studio album Why You So Crazy (Dine Alone Records).
The album will see The Dandy Warhols return in singularly freewheeling fashion, careening through classically off-kilter psych-pop ('Be Alright'), country-fried Americana ('Motor City Steel'), and gothic piano-propelled rumbas ('Forever'). Packing in references as far flung as Fred Astaire and Ginger Rogers, Don MacLean's Chevy, and the church of Bowie's 'Modern Love,' these 12 songs reflect the band's surrealist visions of an alternate reality. Offering an escape from a culture driven to the brink, The Dandy Warhols are progressing into the next chapter of their self-described "25 year act of sonic rebellion."
"We've always been driven to create art with emotional clarity," concludes Taylor-Taylor. "That's what the world needs more than ever right now. I've never felt so strongly that people are losing their minds, and it's more of them than ever before. Local politics, international politics, news programs, sitcoms, and our president all feel like the heat got turned up. It doesn't feel like a natural progression of insanity, it just happened. Most people are behaving in a manner that can only be described as batshit crazy."
With the future stretching out ahead of them, and an impressive back catalogue behind them, 2019 promises to be both a celebration of the past and a glimpse into the unknown of what's yet to come.
The Vacant Lots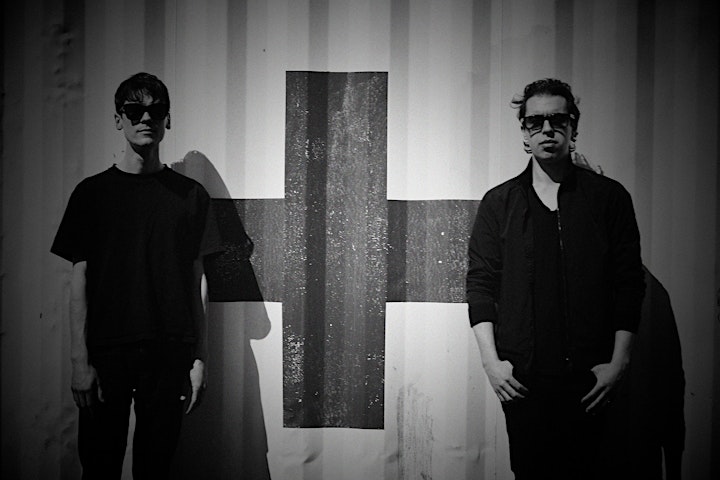 The Vacant Lots are an American psych-electronic duo comprised of Jared Artaud and Brian MacFadyen. The key element of The Vacant Lots' minimalist, primitive rock and roll songs is their boundless energy, which tears up the psych template with a genuine punk spirit. The notion of duality is also a recurring theme in the band's minimal means maximum effect aesthetic, whether in their lyrics or fiercely monochromatic artwork. The group has collaborated with underground music legends including; Sonic Boom (who mixed their debut album Departure), Alan Vega of Suicide (who's vocals are featured on the band's second album Endless Night & who they've done a split 10' with) and Anton Newcombe who has produced 2 EPs (Berlin, Exit) at his Cobra Studio in Berlin with the band. The Vacant Lots have also toured with Suicide, Black Rebel Motorcycle Club, The Brian Jonestown Massacre, The Growlers, Dean Wareham and The Dandy Warhols. The Vacant Lots are currently working on a new album expected to be released in 2020.
Performers
Date and Time
Location
Refund Policy